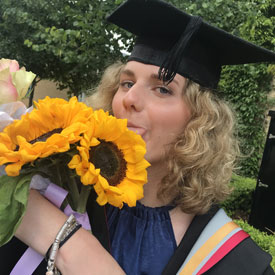 Zoe Stearns
Country Of Origin: France
Degree: BSc Marketing with Psychology, 2019
---
Social Media Associate, Benson & Clegg Ltd
---
Why did you choose to study at LUMS?
The rankings, teaching, modules, and flexibility of the course.
What was the best thing about your course?
The diversity in the modules.
What/who inspired you most at LUMS and why?
I can't name all of the lecturers, as there are too many! But they were engaging and the recommended reading lists helped a lot.
Did you do a consultancy project, placement or study abroad? What did this involve and what did you gain?
I did the consultancy project in 310 - it's hard but so fulfilling. You start working in your group as early as mid-October and finish sometime in March (If your client is available at that time), but all the 50 group meetings & analysis that went in this project were worth it. It made you realise what you like or dislike about marketing and the level of confidence you can achieve. I realised my importance outside my studies, actually working on real cases fills you with motivation. Obviously now and then the work will become hard, but you are never alone to handle all of this.
Describe your time at LUMS in three words.
Marathon, hopeful, joy
What are your best memories of your time at Lancaster?
The societies (Basketball represent & Fashion society!!), I've made my closest friends at uni and re-discovered myself; my confidence grew and your values change. I am very grateful towards any experience I've lived through whether good or bad, as it has made me who I am today, which I am proud of.
What are the best things about living in the Lancaster area?
It's cosy and yet quite vibrant sometimes, especially when the market is taking place. It is a very student area which makes it comfortable and it is close to Preston and Manchester if you want to go on a little break. Also it's close to the Lake District - beautiful for walks with friends.
Which parts of your Lancaster experience were the best preparation for your job?
Societies, working with other societies for partnerships or even real business - sending emails and creating calendars or timetables for meetings, being on time and respecting deadlines. The consultancy project definitely helped me for face to face relationships in the professional worlds as well as providing professionally written work and putting on a brave face during tough times.
What impact has your Lancaster experience had on your career?
It made me proud of what I've learnt, and made me confident in my abilities whether they are academic or personal.