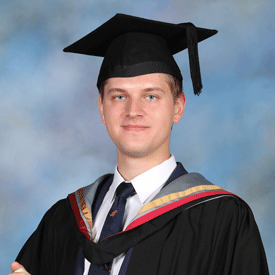 Piotr Autuch
Country Of Origin: Poland
Degree: BSc Management, Politics and International Relations, 2019
---
Client Services Analyst, Blackrock
---
Why did you choose to study at LUMS?
The quality of teaching and research at LUMS is widely recognised as excellent, and the school is continuously improving its offering.
What was the best thing about your course?
The multi-disciplinary approach, which really widens your horizon.
What/who inspired you most at LUMS and why?
My course director, who was always there to help.
Did you do a project, placement or study abroad? What did this involve and what did you gain?
I did a ten-month placement in my third year, which was a great way to gain professional experience and prepare for a job-hunt after graduation.
Describe your time at LUMS in three words.
Exciting, inspiring, motivating
What are your best memories of your time at Lancaster?
I have many great memories of my time at the university, but one of my favourites was helping build the LEGO society from scratch - especially coming up with new ideas for events to get some new members!
What are the best things about living in the Lancaster area?
I loved how cosy and calm the Lancaster area is - you can even hear the sheep if you live in Cartmel.
What impact has your Lancaster experience had on your career?
While my career may not be directly linked to what I studied, I benefit every day from the transferable skills that I developed during my time at the university, specifically time management, researching and presenting skills.