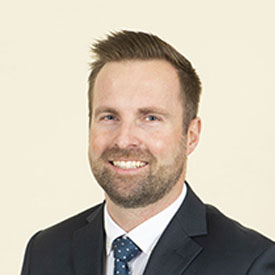 Brendon Boudville
Country Of Origin: Australia
Degree: Full-time MBA, 2019
---
Pathways Operations Manager, Amazon
---
What did you do prior to joining the MBA?
Prior to joining the MBA programme at Lancaster, I served for 12 years in the Australian Army as a Logistics Officer. During my time in the military, I was fortunate to have had a wide range of experiences: from serving alongside Special Forces in Afghanistan, to Peacekeeping with the United Nations in the Levant; from developing supply chain strategies to support our deployed forces, to teaching and mentoring the Australian Defence Force's newest junior officers.
Why did you decide to do an MBA?
Once I made the decision to begin transitioning back into civilian life, I wanted to convert some of the valuable skills I had learned in the military into a civilian context. Specifically, I wanted to learn more about business strategies and financial management, as well as develop consulting and analytical skills to support my move into a different industry.
Why did you choose Lancaster University?
For me, I was particularly attracted to the Lancaster MBA's Mindful Manager module, which focuses on improving one's own conduct and developing sound managerial skills for dealing with an uncertain world. I was also attracted to the travel opportunities within the programme, such as the Czech Republic, Ireland, and the numerous study trips into London. Lastly, the Lancaster University campus and surrounding areas are incredibly beautiful – the Lake District is stunning and great for weekend hikes!
What did you enjoy most about the Lancaster MBA?
I really enjoyed working with peers from other countries and cultures. As the cohort was quite diverse, I found myself learning a lot from other students and their own life experiences, not just from the lecturers and the defined coursework.
I also really enjoyed the travel incorporated into the programme. It seemed like every couple of weeks we were stepping outside of the classroom environment and heading off to experience practical and live examples of businesses at work. There was a good balance between theory and practice.
What do you need to consider before applying?
Completing a full-time MBA is a huge commitment not only for you but also for your family, so it's vital to take into consideration the time you will spend away from your loved ones. This includes how much time you will need to dedicate to readings, assignments and group projects. Time management is key during an MBA programme, so make sure you consider how you will be able to balance your time between study, family and social life.
What is your next step now you have completed your Lancaster MBA?
I have recently accepted a role with Amazon as a Pathways Operations Manager in a UK Fulfilment Centre. This is an exciting global leadership development programme, designed to nurture talented MBAs and turn them into Amazon's next leaders. Whilst I am only a few weeks into the programme, I am really enjoying it so far!