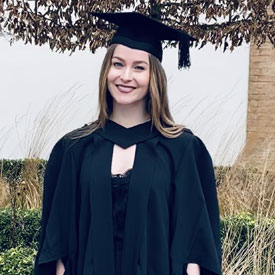 Carolin Berweiler
Country Of Origin: Germany
Degree: MSc Management, 2019
---
Leadership Experience Programme Trainee , Mars Pet Nutrition
---
Why did you choose to study at LUMS?
During my educational life, I've never heard of Lancaster University, until I attended the Master & More fair in Stuttgart. There, I had a really interesting and inspiring conversation with the recruitment officer, who actually convinced me to apply for the Master's programme at LUMS. In the end, I had to choose between multiple universities and the main reason I decided for LUMS was due to their high reputation in the UK and national-wide as well as their tireless effort to help me with any concern and question.
What was the best thing about your course?
Besides the high variety of theoretical and practical subjects, I highly valued the diverse cohort of our course with people from all over the world. Throughout the year, we grew up as one big family and supported each other whenever possible.
What/who inspired you most at LUMS and why?
Definitely all my fellow students and many of our incredible lecturers. I had the opportunity to meet so many inspiring and grateful people from all around the globe. With their help, I got to know my strengths and weaknesses even better and to appreciate the world openness of our generation once more.
Did you do a project, placement or study abroad? What did this involve and what did you gain?
During my time in Lancaster, I was informed about the possibility to study three months at one of LUMS partner universities. As one of the only ones, I took the chance and was able to experience the student life at Europes best University for Management at the University of St. Gallen. This study abroad was so valuable! I got to know so many incredible people and could participate in multiple interesting company presentations and projects. I would highly recommend everyone to embrace this opportunity to gain some international experience and to appreciate the unique teaching methods of each university.
Describe your time at LUMS in three words.
Fast-moving, pioneering, cooperative.
What are the best things about living in the Lancaster area?
The things I enjoyed the most about the Lancaster areas was the nature and campus life that I only knew from American movies so far. Most of my fellow students lived in one house, which definitely deepened our friendship, belongingness and team spirit.
What impact did scholarships or funding have on your degree experience?
I was honoured with the Academic Excellence and High Potential Scholarship which enabled me to completely focus on my studies and personal development instead of worrying about any financial issues.
What impact has Lancaster had on your career?
Due to the fast-paced nature of our study programme, we often had to complete various tasks at the same time. Therefore, it was essential to develop a good time-management and high degree of mental agility characteristics which are highly demanded in the constantly changing work environment. Moreover, being asked to regularly collaborate and compromise with people of different ages, cultures and professional backgrounds provided me with the necessary intercultural abilities to pursue an international career.
Is there anything else about your LUMS experience that you'd like to share with us?
One last thing I want to point out is the fact that even though you might not be aware of the personal and professional development you have to undergo in your time in Lancaster, you can gain so many worthwhile experiences and abilities that will shape and change your life.