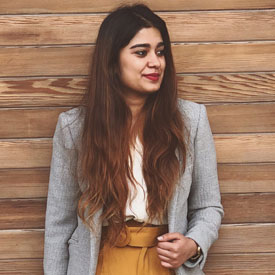 Ankita Gupta
Country Of Origin: India
Degree: MSc Entrepreneurship, Innovation and Practice, 2019
Why did you choose to study at LUMS?
I wanted to have a complete uni life experience and I feel no other university promised that experience. Lancaster has such a rich Uni life, faculty, academic brilliance, the most beautiful campus with every facility and such a nice culturally mixed cohort.
What was the best thing about your course?
The lectures were very interactive and practical. Our assignments were also very challenging and at the same time a very good learning experience.
What/who inspired you most at LUMS and why?
Our course gave us an opportunity to meet one-on-one with Entrepreneurs in and around campus and it was a very inspiring process to hear about their journeys, it made me believe that some day I could do it too.
Did you do a project, placement or study abroad? What did this involve and what did you gain?
We did a project with Mr. Darwin Soleman which was a Smart Village project for suburban India. We had a realtime project and something that would be adapted In the future. It was a stressful but fruitful experience.
Describe your time at LUMS in three words.
Best year ever.
What are your best memories of your time at Lancaster?
Meeting people from different countries and now I have friends all over the world.
What are the best things about living in Lancaster?
You are close to nature. And since you are away from the city you tend to do much more meaningful activities like strolling in Williamson Park, Hikes, running by the lake etc. And meeting the most amazing and sweet people of Lancaster. And Lancaster has the cutest little bars and cafes.
What impact did scholarships or funding have on your degree experience?
I could spend the money saved to travel around the country and enrich my experience in the UK.
Which parts of your Lancaster experience were the best preparation for your job?
The course structure was designed to keep us busy and prepare us for a job life.
What impact has your Lancaster experience had on your career?
I feel more confident in speaking to people with higher experience. Since the university gave us an opportunity to have direct contact with very experienced members of the community.