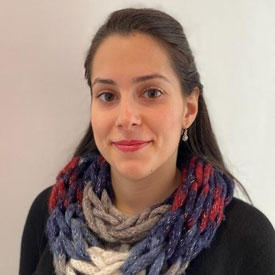 Marianthi Paleni
Country Of Origin: Greece
Degree: MSc Human Resource Management, 2019
---
HR Assistant Trainee , Fusion for Energy
---
What/who inspired you most at LUMS and why?
My professors and the LUMS community, as well as the co-operative hard-working vibe in the various study areas, inspired me most. First of all, because of the interesting and new information I was gaining after each class, that was making me want to learn more and more, and secondly due to the supportive environment in the study areas with the students, who were sharing their knowledge and helping each other.
Describe your time at LUMS in three words.
Busy, Unique & Unforgettable
What are your best memories of your time at Lancaster?
My best memories of my time at Lancaster were of the professors in the classes, the quality time spent with the new friends I made, as well as the rehearsals and performances with the ULMS choir.
What impact did scholarships or funding have on your degree experience?
My scholarship was a highly motivating factor in my decision to study abroad, and was also useful as a driving force for me to prove to myself what I could achieve.
Which parts of your Lancaster experience were the best preparation for your job?
Some of the modules, such as the ''HRM: II'' and ''The management of organisational change'', in combination with the preparation for the CIPD accreditation were some of the most important factors to know about the real working conditions and prepare me for everything I have to set in practice in my current job position.
What impact has your Lancaster experience had on your career?
My Lancaster experience helped me to acquire a theoretical background and be efficient at working in an HR department. In addition to that, it gave me the opportunity to meet and co-operate with people from different cultures, something that was crucial for my career in an international organisation.