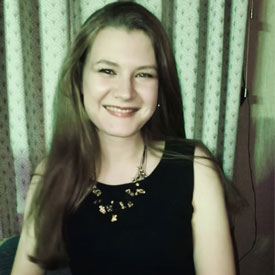 Valeriya Dubovaya
Country Of Origin: Russia
Degree: MSc Marketing, 2019
---
Marketing Associate, Globuc
---
Why did you choose to study at LUMS?
Studying at LUMS was part of my double-degree program between LUMS and the Higher School of Economics in Moscow. Making a decision to start this master's degree course was one of the best decisions I've ever made.
What was the best thing about your course?
I really enjoyed the balance of theory and practice throughout the course. We were introduced to the most recent marketing developments and equipped with essential theoretical knowledge in marketing, economics, psychology, and even ethics in light of the reality of modern business. Also, I loved how we were taught to be critical and independent thinkers in an information-rich environment.
What/who inspired you most at LUMS and why?
I was absolutely inspired by our program director Dr. Hayley Cocker. She was extremely supportive in any possible way from achieving better academic performance to adapting to the university environment. Her enthusiasm and a wonderful sense of humor made her lectures one of my favourites.
Describe your time at LUMS in three words.
Unforgettable, challenging & exciting
What are your best memories of your time at Lancaster?
Meeting incredible people from all over the world both in a learning environment and off from studies! I made friends for life and they made my year in Lancaster very special.
What impact has your Lancaster experience had on your career?
Studying at LUMS and being exposed to a multicultural environment expanded the horizons of my career development and encouraged me to gain work experience abroad. After finishing my MSc Marketing course I secured a marketing internship at a London-based event management company. Professional experience abroad definitely adds value to my CV, improves my employability at home, and opens my eyes to new opportunities in other foreign countries.