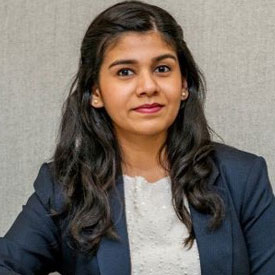 Ritika Belwariar
Country Of Origin: India
Degree: Full-time MBA, 2019
---
New Product Introduction Manager, Ricardo
---
What did you do prior to joining the MBA?
I worked at Sony (in India) in the field of service marketing.
Why did you decide to do an MBA?
Through five years of experience in the IT sector, I gained insights regarding the various complex scenarios that are a part of business procedures, while understanding the nuances in the domain from a customer perspective.
I pursued my MBA to strengthen my foundation in business models, operations, and success strategies.
Why did you choose Lancaster University?
I chose Lancaster University for a number of reasons. 1 - its core strands in Mindful Manager, Core Capabilities, and Leading Mindfully; which set the tone for the rigorous curriculum to follow. 2 – the Business Management Challenge, Strategic Management, Entrepreneurial Challenge, and Corporate Challenge, which provide practical exposure and allow students to apply innovative thinking to international issues.
The Full-time MBA programme at Lancaster was ideal for me.
What did you enjoy most about the Lancaster MBA?
Being part of a diverse cohort, and the focus of the curriculum on practical exposure. Also, not to forget the international business experience in Prague.
How do you think the Lancaster MBA benefitted you?
It helped me grasp the basics of business, gave me a chance to apply innovative thinking to international business issues and to hone my problem-solving abilities. The summer Internship and group assignments prepared me for real-world challenges. Mindful Manager provided guidance for crucial leadership and decision-making roles.