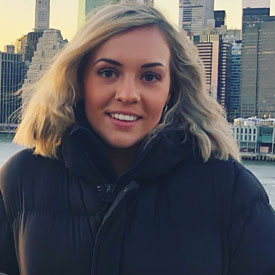 Ellie Tytler
Country Of Origin: United Kingdom
Degree: BA Advertising and Marketing, 2019
---
Executive, Ogilvy
---
Why did you choose to study at LUMS?
I loved the course and the range of subjects I could study under one roof! I was also really drawn in by how unique my specific course was, as at the time of applying not many universities offered Advertising. I was also really attracted by the minor system that Lancaster offers as well as the amazing range of societies and extracurriculars.
What was the best thing about your course?
The people! I loved being taught by a mixture of academics and industry leaders as it gave us such a unique insight into the world of Advertising and Marketing. We were also so lucky to benefit from real briefs from actual agencies that let us apply our skills and learning in real-time. It's also so great to work with students from a mix of disciplines across multiple business functions.
What/who inspired you most at LUMS and why?
I was really inspired to study at LUMS when I came to visit on open days and saw how much the staff and students passionately loved it there. That kind of enjoyment is infectious.
Describe your time at LUMS in three words.
Absolutely Bloody Brilliant.
What are your best memories of your time at Lancaster?
My overriding memory of Lancaster will undoubtedly be my involvement in the Marketing Society. I started attending events in my first year and then became the Social Media and PR Officer in my second year. In my final year, I became President and we won LUMS Society of the Year for the 2nd year running. The societies at Lancaster are nothing short of extraordinary and I was so lucky to meet some of my closest friends through the LUMS societies. It was amazing meeting people from all over the world, from businesses up and down the country and from students across the university all brought together by a shared interest and passion. From the socials, workshops, events, and guest lectures I loved every minute of my society experience at Lancaster!
What are the best things about living in the Lancaster area?
It's so near so much! If you want shopping in big cities, long walks in the countryside or culture and arts, it's all there!
Which parts of your Lancaster experience were the best preparation for your job?
Definitely my 232 Advertising course in the second year and 331 Market Research course in 3rd year. Both gave me real-life agency experience, working on live briefs with actual processes and people from advertising agencies in London (both of which I have since worked with). It was so nice being able to go into work and actually be able to prove my worth and show my expertise off. My society experience also gave me amazing preparation in leadership, teamwork, and networking and helping me build the confidence to get the most out of every experience I have had in the working world.
What impact has your Lancaster experience had on your career?
Without a doubt, Lancaster has weight when you're applying for Advertising jobs. Most hiring managers are aware that it is a very good university and they know that the caliber and quality of work is second to none. I also had so many opportunities to network, through contacts of my tutors and through my involvement with the Marketing Society, who bring in guest speakers weekly. I came down to London in the summer with a whole network ready and waiting to help me and in the first 6 months out of uni received SO much help, advice, and support from people I had met while at uni.
Is there anything else about your LUMS experience that you'd like to share with us?
LUMS is a special place, full of special people. I undoubtedly would not have made it through my degree without the support of the Marketing Department, particularly the course organisers and careers team. Having a support network like theirs on offer to you while at university is one of the greatest privileges a student can have and it is a testament to them how well I am doing out of university. LUMS is more of a way of life than a 3-year uni course, it never really leaves you.