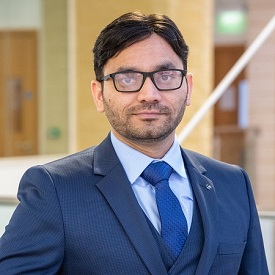 Abul Faiz Iqbal
Country Of Origin: India
Degree: Full-time MBA, 2020
---
Manager – Data Science and Business Intelligence, EY
---
What did you do before joining the MBA?
Before joining the Lancaster MBA, I worked for the analytics industry for seven years. I was developing the model and dashboard for diverse sectors such as pharmaceuticals, the tax and financial industries, and managing a few people at the same time.

Why did you decide to do an MBA?
Pursuing an MBA was a long-time goal for me. With my experience, I encountered that the industry needs a higher number of technical managers who can understand the clients' requirements. This will reduce the response time to the client as the complexity of the project can be better understood without even connecting back to the team. In addition to this, I wanted to develop soft skills such as strategic thinking, negotiation skill set, and get exposure to wide perspectives on global, social, and business issues.

Why did you choose Lancaster University?
Picking the Lancaster MBA was based on multiple factors. My main objective of doing an MBA was to develop my soft skills, and due to Lancaster's action-learning method, it was easily achievable. Another difference was four practical challenges, which were part of the curriculum where I could apply my learning before even using it in the corporate world. Also, its career support ranked 1st in the UK based on the Global MBA Ranking 2019 and 24th in the world. Lastly, the fees with a handsome amount of scholarship made my decision very easy.

What did you enjoy most about the Lancaster MBA?
The Lancaster MBA experience is unique to itself. Studying in a class of 22 nationalities gave me a great experience, and working in a group made me realize how important it is to look from other perspectives. Not to forget, while doing this, I made friends from around the world.

How do you think the Lancaster MBA benefitted you?
We all talked about the VUCA world during the start of the MBA, in the mindful manager module. I recall a quote from it, "Deal with the world as it is not the way you wish it to be." Lancaster MBA gave me an Entrepreneurial mindset and guided me to see things from a raw perspective. It also strengthened my knowledge of different business subjects taught in the course.

What impact has your Lancaster experience had on your career?
Lancaster MBA gave me the X factor that I required to grow. For the last module, I could choose between the corporate challenge or to work on my business plan (a new module introduced). I decided to go with working on my business plan, and honestly speaking, the experience I had throughout the process of working on it was meaningful.
During this process, I made connections to some potential clients for my business idea. But due to this pandemic, I decided to return to India as it was tough for me to handle the expense of living. Also, I required some time to work on the prototype that I can easily showcase to clients, and it was best suited for me to develop this from India due to the professional connections I have there.
Before signing off, I would like to take this opportunity to thank the MBA team, both the mentors (Edward McKeever and Sanjay Rishi) and the Work in Progress team for helping me on this entrepreneurial journey. For now, I have decided to join a firm where I negotiated a managerial position.