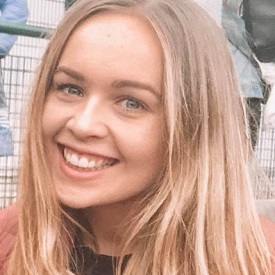 Julia Kennerley
Country Of Origin: New Zealand
Degree: MSc Advanced Marketing Management, 2019
---
Brand Manager, Nestle
---
Why did you choose to study at LUMS?
I choose to study at LUMS for several reasons. The most important was the school's reputation, which is exceptional and was a big factor behind me wanting to study there. For my chosen field - Marketing - the school also has a great reputation. I'd also previously attended Lancaster as an exchange student and had an incredible experience, so I was eager to return.

What was the best thing about your course?
The best thing about my course was the wide range of areas that we studied. No two lectures or modules were the same and I was exposed to a wealth of ideas that helped me to prepare for the real business world.

What/who inspired you most at LUMS and why?
Several of my module lecturers were very inspiring. The ideas that they exposed us to and the various ways in which they thought about and looked for solutions to solve marketing problems was interesting and definitely broadened the way in which I think.

Describe your time at LUMS in three words.
Intense, inspiring and worthwhile.

What are your best memories of your time at Lancaster?
I made some really good friends during my time at Lancaster and really enjoyed the social side of university also. There's always something going on and it was great to get involved in the sports teams, socials and events like Roses and Founders.

What are the best things about living in the Lancaster area?
Lancaster is a very cute English town and as an international student it was fun to live there and explore the local area. I also had plenty of trips to the Lakes, Manchester and Scotland.

Which parts of your Lancaster experience were the best preparation for your job?
I think the large number of experiences and ideas that I was exposed to during my MSc was very helpful in terms of job preparation. I also became very used to thinking on my feet, presenting and working with others, all of which are valuable skills in the workplace.