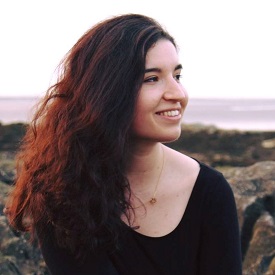 Aleksandra Szymczuk
Country Of Origin: Poland
Degree: MSc Advanced Marketing Management, 2019
---
Digital Rollout Manager, Accenture
---
Why did you choose to study at LUMS?
I chose to study at LUMS because I did my Bachelors degree here and I was already aware of how things worked. LUMS is one of the top Business Schools in the UK and I have already known its vibrant, professional and friendly atmosphere.

What was the best thing about your course?
I really enjoyed the small number of people in our cohort, which was a huge difference for me, in comparison to the undergrad course. This allowed us to establish closer bonds, get to know each other better, and build a friendly AMM community. I really appreciated it, especially when working in teams on the projects.

What/who inspired you most at LUMS and why?
Workshops connected to self-development, as well as career events really opened my eyes to a new way of thinking about myself and possibilities ahead. I get to better understand what I would like to do in the future. The whole LUMS atmosphere is all about encouraging students and making them believe that everything is possible, if they really want it.
Did you do a project, placement or study abroad? What did this involve and what did you gain?
After finishing my Masters dissertation, I got a place on the Study Abroad Programme for LUMS students. I spent 4 months at the International School of Management in Munich. I studied a range of courses in International Business. Our tutors were all at the same time working in various German business sectors, and were able to impact me with a lot of meaningful feedback. I really enjoyed the time spent there, as I had a unique possibility to immerse in the German culture, enjoy a lot of travelling, and many extra activities.
Describe your time at LUMS in three words.
Empowering, connecting, growing.

What are your best memories of your time at Lancaster?
My best memories come from Graduate College, where you can really feel like at home away from home. Since day one I was amazed by how international and welcoming this community is, and how exciting it is to create friendships with people from all over the world. I would say that this is something which really changed me during this year and made me even more open to the world.

What are the best things about living in the Lancaster area?
I think Lancaster is a perfect place to grow as a person and develop meaningful relationships because you don't have too many distractions of a big city life. Lancaster is a little, cozy, very British town. The university campus is 20 minutes away by bus, surrounded by beautiful hills and fields. Due to this fact, you have no other way than to immerse in the student communities and societies, and spend hours in the nature. Taking into account the current trend of people losing connection with each other and with the Earth, I think it is a very developing and life-changing environment to spend your Masters time.
What impact did scholarships or funding have on your degree experience?
I received a loyalty scholarship from LUMS, due to the fact that I've been also studying at Lancaster University on my Bachelors, finishing with a good result. I appreciated it and felt encouraged to continue my studies here.
Which parts of your Lancaster experience were the best preparation for your job?
I think one of the most interesting experiences was my Masters dissertation project, which I did for Microsoft. I had the possibility to get in touch with the Senior Director for Microsoft EMEA, which gave me a better understanding of how companies are managed on higher levels, and much more confidence when talking to experienced people.

What impact has your Lancaster experience had on your career?
I keep realising month by month some new things about how impactful the Lancaster experience was for me. In general, it taught me critical thinking, boosted my confidence, and made me an even more open person. Traits which are crucial on any career path.