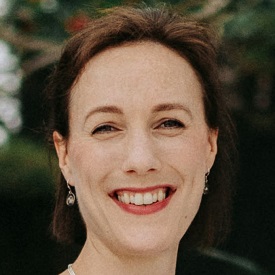 Meike Beckford
Country Of Origin: United Kingdom
Degree: Executive MBA, 2020
---
Lead Director, Dosh Financial Advocacy
---
What did you do before joining the MBA?
Before joining the MBA, I was working in a management role in the non-profit sector. I had come into that career through a graduate scheme after my degree and had moved up in that organisation over a period of 6 years.

Why did you decide to do an MBA?
I chose to do the MBA to stretch myself and boost my management and leadership knowledge and skills. I wanted to go beyond just short professional courses, tools and techniques to really learn the theory and research behind leadership and management. I also wanted to 'fast track' my development in areas I hadn't yet got much experience in, to give me the confidence to work at a senior level liaising with many different professionals. Finally, I wanted to develop myself ready to take on any new opportunities in my career whilst I stayed in my job role.

Why did you choose Lancaster University?
Lancaster's MBA came highly accredited and well ranked - it was important to me to select an MBA that had this prestige and backing as part of the reason for getting an MBA is to make yourself stand out. I also really liked the look of Lancaster's programme which had a real balance and range of topics, with some opportunity for specialisation and an awareness of the ethical and reflective elements of being a modern manager. It felt like somewhere I would fit coming from a non-profit background, but which would also stretch me outside my comfort zone. Finally, the fees were much more reasonable than many other top MBA programmes and they offered additional financial support that enabled me to do the MBA without big financial backing from my employer.

What did you enjoy most about the Lancaster MBA?
It is difficult to pick out one thing that I enjoyed most. The amount I learnt was incredible and I loved being stretched, challenged and introduced to new ideas all the time. I also learnt a huge amount from my peers on the programme and really enjoyed working with them and getting to know them.

How do you think the Lancaster MBA benefitted you?
I have learnt many new skills to assist my practice as a leader and manager, as well as knowledge in many areas where I previously lacked experience. The MBA also pushed me to implement my learning from the first day, so I was able to implement several new projects in my role that I and my organisation have already benefitted from over the past two years. Above all, it has given me the confidence to interact with other senior leaders, ask the right questions and work effectively with them, whether that's in a meeting with my management accountant, presenting to the Board, leading a business strategy workshop or introducing a new management structure. I now feel I have enough knowledge to be able to try things out, along with the self-awareness and reflection skills to learn and adjust as I go, so that I keep developing.

What impact has your Lancaster experience had on your career?
I was promoted mid way through my MBA, which I believe is partly down to undertaking the MBA (and already bringing the benefits back to my organisation) as they could see my growing potential. I hope in future it will give me the confidence and skills to explore and take on new opportunities as they emerge and move into other leadership roles.