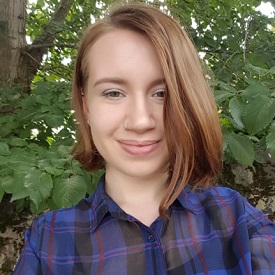 Alaina Harrison
Country Of Origin: United States
Degree: BSc Marketing and Design, 2019
---
Communications and Marketing Coordinator, Johnnie Johnson Housing
---
Why did you choose to study at Lancaster University?
I chose to study at Lancaster for three main reasons. First, Lancaster was the only university with a joint Marketing and Design degree. Second, Lancaster was number 2 in the country for marketing and a top 10 UK university. Third, because it didn't have a spread-out city campus like all the other universities I had visited. The campus was like its own town and more rural, like I was used to. It was my favorite university for marketing in the UK.
What was the best thing about your course?
I think having both marketing and design was incredibly beneficial. The two disciplines work well together and feed back and forth a lot. I also enjoyed the variety of marketing modules that I got to do throughout my three years. Branding, Marketing Simulation, and Consumer Behaviour were my favourites (I might have got those module titles slightly wrong). Marketing Simulation was particularly interesting as it allowed us to play as Brand Managers and gain more transferable skills for the workplace.
What/who inspired you most at Lancaster and why?
I was most inspired by the Design department at Lancaster University, because they are really at the forefront of design work and research. Lancaster's Design department is amazing and it was great to be a part of such an influential school for design.
Did you do a project, placement or study abroad? What did this involve and what did you gain?
In my final year at Lancaster I did a large design research project with a team of 5 other students, where we took on a real client and worked with them for 7 months. The project allowed us to really learn about working with a client and managing a big project within a team. It was an amazing experience and a great thing to put on your CV.
I also did two short internships during my time at Lancaster. One was a two month internship in Edinburgh with an advertising and marketing agency called Always Be Content. I worked as a video editor and social media manager during the summer following my second year. The other was with the Manchester-based charity, Human Appeal. I helped by designing marketing collateral for volunteer events during the month of Ramadan. Both internships gave me a chance to learn about marketing as a job and helped me learn what I wanted and didn't want to do in my job following university.
Describe your time at Lancaster in three words.
Fun. Stressful. Life-changing.
What are your best memories of your time at Lancaster?
My best memories have to be with the amazing friends I made at Lancaster, mainly from Lancaster University's rock and metal music society, RocSoc. I have made life-long friends through that society and unforgettable memories with them. In particular the fun and stupid times we had during trips to Manchester and Preston. As well as spontaneous nights out that followed our regular socials or gigs. I highly recommend that any and every student at Lancaster finds and joins some great societies that match their interests. You will meet amazing people and create the greatest memories.
What are the best things about living in the Lancaster area?
Lancaster is quite rural which has it's pros and cons. For me I liked it because I'm used to the countryside, so Lancaster wasn't too different from home. Living on campus you are 20-30 mins out of the city centre where there is a surprising amount of shops, pubs and restaurants. If you don't find something in Lancaster there are pretty good links by train to Preston and Manchester. There is also Morcambe not too far if you fancy a trip to the seaside and to explore some of the interesting independent shops there. I hadn't been to Lancaster before university so I loved exploring a new place and making it my home.
What impact did scholarships or funding have on your degree experience?
Scholarships helped me so much. My parents are quite working class and don't earn much money so they couldn't fund my degree or living while at university. Loans can get you so far but scholarships are a huge help in ensuring you can afford all your supplies and be able to enjoy the whole experience of university while still being able to afford to visit home occasionally. If you're really struggling financially there are other scholarships and funds at the university that you can access. The Base is super helpful and can guide you in whatever you need.
Which parts of your Lancaster experience were the best preparation for your job?
Definitely the Marketing Simulation module, the big design research project, and my internships. I wouldn't have been able to get my internships without the help of Lancaster's careers team. If you need any help with jobs or your career, go to the careers team in the Management School building. They are brilliant.
What impact has your Lancaster experience had on your career?
Without my degree, experience from my internships, and the help from the careers team, I wouldn't have a job. I was able to get a full-time permanent position as the Communications and Marketing Coordinator at Johnnie Johnson Housing a month after my graduation, because I had a 2:1 in Marketing from Lancaster University, had actual marketing experience, and a great CV plus more confidence in promoting myself thanks to the careers team.
I've been at this job for a month and a half and loving it. I've been able to rent my own place and just start the life I wanted. Lancaster helped me do that in so many ways. There is amazing support at Lancaster. My academic careers adviser, Anna Wos did so much to help me with my studies, and Bev Moss is always helpful and supportive of everyone from the marketing department. Do take advantage of the support available at Lancaster because it helped me immensely.
Is there anything else about your LUMS experience that you'd like to share with us?
There has been a lot of talk in recent years about how useful degrees actually are once you start working. It is true that you may end up in a job completely different from your major and not use much of the information your lecturers taught you. However, that is not all that you get from a degree at Lancaster. You learn so much about living alone, managing your money and time. You have the space to figure out who you are and who you want to be. You get great careers advice about CVs and workshops. There is access to a whole alumni network to help you get a foot in the door of companies or industries you want to work in. You make amazing friends, maybe even meet a partner, and leave with plenty of stories that you can tell for years to come.
You might go into a perfect job for your degree where you use what you learnt every day, and you might not, but I promise you that your time at Lancaster will not be a waste and you will learn and gain so much to help you in your career and life.