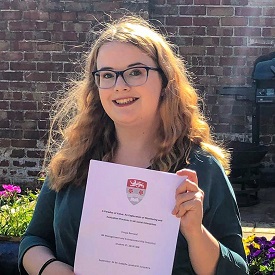 Freyja Barnard
Country Of Origin: United Kingdom
Degree: BA Management and Entrepreneurship (Industry), 2020
---
Lender Relations Assistant, CrowdProperty
---
Why did you choose to study at LUMS?
When looking at different universities, Lancaster really stood out for both the community feel of the campus and the flexibility of academics. In my first year I was able to study Sociology and Marketing as well as Entrepreneurship, and having that opportunity allowed me to broaden my horizons more than I would have been able to on a fixed course.
What was the best thing about your course?
I think the best thing about Entrepreneurship at Lancaster has to be how involved it is! Of course, you have to study the theory, but the way that the course is structured allows you to put that into practice and learn from your experiences. I also found the Entrepreneur in Residence network incredibly valuable, it's an amazing resource to have access to experts in their fields who actively wish to engage with students.
What/who inspired you the most at LUMS and why?
It sounds corny, but I truly found LUMS as a whole incredibly inspirational and motivating. I am fortunate that in my time at Lancaster I got involved heavily across the Management School (working as an Ambassador, in Careers, and for the Entrepreneurship Department) and beyond, and consistently found everyone, staff or student, to have a great work ethic and the ethos that we are all one community that should help each other where we can.
Did you do a project, placement or study abroad? What did this involve and what did you gain?
The opportunities presented to students at LUMS are incredible - and I am fortunate to have undertaken a placement year and travelled internationally alongside my degree. My year on placement was spent in Corporate Social Responsibility at UBS, where I gained an insight into how a multinational company operates and an insight into the Financial Services industry, as well as exercising my passion for community and charitable giving by working with local communities on a range of projects. This also opened doors for me after leaving - I don't know if I'd have secured a job in a pandemic without the experience I had!
In terms of travel, in my first year I travelled to Boston and New York to meet alumni and learn about their journeys since Lancaster, as well as developing an app alongside Computer Science students also on the trip - it was great fun! After my placement and before returning to my final year of university, I also had the opportunity to represent Lancaster at a Case Study Competition in New Zealand - I never thought I'd be travelling so extensively and I would not have had these opportunities if I hadn't chosen to attend Lancaster.
Describe your time at LUMS in three words.
Educational, Enriching, Fun!
What are your best memories of your time at Lancaster?
Too many to count! I think my final year in general, despite being thrown off by 2020's craziness, was amazing. The sense of camaraderie between returning placement students across the Management School was something I had not anticipated, and being able to apply my teachings to practical experience gained on placement really helped to bring concepts to life. Beyond this, I thoroughly enjoyed the opportunities my part-time work as a Careers Information Assistant and Student Ambassador provided me with to share my experiences and help prospective and current students. (Although really, how can I not say that travelling to New Zealand and our 24-hour layover in Singapore was a highlight!).
What are the best things about living in the Lancaster area?
Coming from a rural town, Lancaster was a perfect size! The campus itself is essentially a town, with all the amenities that you could possibly need, but beyond this the town of Lancaster is great. Whether you want to go for a cocktail, visit the castle, have a pub lunch, or even go for a stroll on the beach - it's all on your doorstep!
What impact did scholarships or funding have on your degree experience?
Funding offered for travel really enhanced my degree experience, I definitely would not have been able to afford to travel so extensively had it not been for LUMS funding!
Which parts of your Lancaster experience were the best preparation for your job?
I think the best thing I learnt at Lancaster was the attitude of 'Get stuck in!' In my first year, we were told that you only get out of university what you put in, and that stuck with me throughout my four years at Lancaster. It has really helped me be willing to try a bit of everything, something you need to do when working for a small company. Beyond that, I undertook a module on Entrepreneurial Finance and have ended up at a Peer to Peer lending firm - so that prepared me more directly!
What impact has your Lancaster experience had on your career?
I don't know if I'd have even secured a job at this point in the current global crisis without the opportunities that Lancaster offered me! I feel very fortunate that my time at Lancaster not only enhanced my academic skills such as writing and critical thinking, but also massively enhanced my confidence and cultural awareness. You wouldn't recognize 2016 first-year Freyja as the same person, and she definitely wouldn't have the confidence to work at an investment bank or a growing FinTech startup.