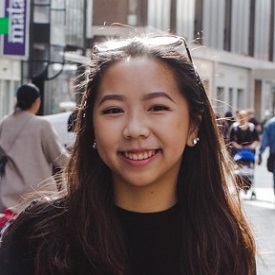 Lyn Tan
Country Of Origin: Malaysia
Degree: BSc Marketing, 2020
---
Marketing Executive, Barrel of Laughs
---
Why did you choose to study at LUMS?
I wanted to escape the city. I really wanted that campus lifestyle and college experience. Also, the flexibility of the first year course intrigued me since I was unsure of my future career path.
What was the best thing about your course?
Before I started university, I didn't know what I wanted to do in my career and the flexibility of the Marketing course allowed me to explore a variety of routes. I did design, psychology and advertising modules alongside the compulsory marketing modules and doing so allowed me to broaden my perspective and learn more about myself in the process. I also believe that the variety of examination methods helped broaden my skillset to prepare me for 'work life'.
Describe your time at LUMS in three words:
Freeing. Lucrative. Broadening.
What are the best things about living in the Lancaster area?

Being a foodie, I loved all of the local cafes and pubs. I am constantly looking for unique experiences and being a small town, Lancaster offered that for me.
Which parts of your Lancaster experience were the best preparation for your job?
Getting involved in extra-curricular activities definitely helped the most for me. Talking to people at fresher's fairs, meeting new people in different societies and attending events or workshops definitely added a lot of value. I think all of this extra stuff outside of the classroom is what truly helps shape you as a person and is something you can truly bring into the workforce.