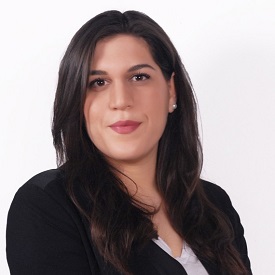 Elena Koutsopetra
Country Of Origin: Greece
Degree: MSc Human Resource Management, 2019
---
Human Resources Trainee in the Directorate of Finance-Human Resources and Organization Unit, European Parliament
---
Why did you choose to study at LUMS?
I chose to study at LUMS as it is one of the top 10 universities in the UK and especially in Management courses. On top of that, the chance to obtain a professional qualification (CIPD) in parallel with my HR studies made me sure that I would be fully qualified for the market's demands.
What was the best thing about your course?
The best thing about the HR course was the ability to gain theoretical and practical knowledge at the same time, and to be taught HR theories by very qualified HR professionals. The chance of developing excellent academic skills in combination with my studies made a real difference too.
What/who inspired you most at LUMS and why?
The variety of chances to meet external companies through meet up seminars, as this gave me a real idea about assessement centres and professional interviews. Also, the facilities and the academic resources that LUMS provided inspired me to concentrate and to prepare as well as I could for my HR course.
Did you do a project, placement or study abroad? What did this involve and what did you gain?
I did an HR project abroad during my thesis and it was a real chance to work with a multinational pharmaceutical company because of my HR studies at Lancaster University. This project involved the examination and research into well-being practices in the context of multinational companies operating in Greece. Based on this real-time experience of how companies' HR departments work, I enriched further my HR knowledge. It was a real life experience that gave me an insight into corporate experience and this filled me with positive potential.
Describe your time at LUMS in three words.
Fruitful, unique, inspiring.
What are your best memories of your time at Lancaster?
The fact that I participated as an HR academic representative gave me the chance to break personal challenges of public speaking and negotiation. Being in the protective environment of the HR course, I was able to meet this personal challenge and to gain confidence and a broad ability to communicate and speak with a variety of international students.
What are the best things about living in the Lancaster area?
Even if it is a small city, Lancaster offers a variety of flexibility as it is close to big cities like Manchester and Liverpool. At the same time, Lancaster provides a calm, natural and green environment that helps you relax and spend your time in the best way.
Which parts of your Lancaster experience were the best preparation for your job?
Firstly, the fact that many employers know the reputation of LUMS made a real difference during my job hunting. On top of that, the fact that I participated in mock interviews with professionals from the Careers department and received help with CV preparation and my LinkedIn profile helped a lot for my job preparation.
What impact has your Lancaster experience had on your career?
My degree from Lancaster University opened to me real professional doors and it gave me the chance to be a competitive candidate for many job positions. Also, especially in Europe, from my personal experience I can say that Lancaster's reputation is highly respected by employers.