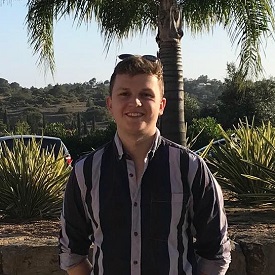 Aaron Stanyard
Country Of Origin: United Kingdom
Degree: BA Business Economics, 2020
---
Discover Consumer Graduate Scheme, Vodafone UK
---
Why did you choose to study at LUMS?
Despite my degree mainly focusing on Economics, I still didn't have a full grasp of what I wanted to do in the future. Looking at LUMS there were so many other subjects, such as Marketing, that I could include in my degree and that the Management School had a good reputation for.
What was the best thing about your course?
The flexibility and variety amongst the modules, which enabled me to discover the areas in my degree subject that I found most interesting.
What/who inspired you most at LUMS and why?
The lecturers. So many lecturers were extremely helpful in clarifying understanding and making time for you. In particular the marketing lecturers I had really got me excited about the subject and helped guide and support me in my pursuit of a career in this field in my final year.
Describe your time at LUMS in three words
Exciting, Demanding, Motivating.
What are your best memories of your time at Lancaster?
I love my sports! So the collegiate system is probably Lancaster's biggest asset in my eyes. I was able to play college football, pool and darts. The latter two I had not done before and my experiences with the friends I made through these sports teams I will take with me in life beyond the university.
What are the best things about living in the Lancaster area?
When university and coursework can sometimes be hectic and stressful, I always found the area round Lancaster to be very peaceful. There are great places to go like Williamson Park and you are near enough to places like Blackpool, where I would recommend a day out too.
Which parts of your Lancaster experience were the best preparation for your job?
Reaching out to my marketing lecturers. The time spent with them really gave me great insight into developing my knowledge in the field and I was able to receive lots of advice and guidance about applying to the competitive sought-after graduate schemes.
What impact has your Lancaster experience had on your career?
It has enabled me to land a graduate job with a FTSE 100 company and market leader that will provide me with further training to develop myself. I got a place on the Consumer Graduate Scheme at Vodafone UK. My first 12 month rotation on the scheme is as a commercial specialist in Fixed & Convergence.