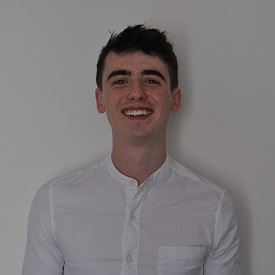 Finn Farthing
Country Of Origin: United Kingdom
Degree: BA Economics and Politics, 2020
---
Masters Student, LUMS
---
Why did you choose to study at LUMS?
I chose to study at LUMS due to the variety of modules on my course that really peaked my interest past what I had learnt at A-Level. The sense of community also attracted me to study at LUMS, meeting new people from across the globe and collaborating on work.
What was the best thing about your course?
The best thing about my course was the real world application of learning. For example, I was able to apply what I had learnt through years of study to an area of interest for me, such as Sports Economics, taking what I had learnt from textbooks and giving it real world context.
What/who inspired you most at LUMS and why?
My fellow course-mates inspired me most at LUMS. Seeing what people I know have achieved both at university and after studying makes me work harder.
Describe your time at LUMS in three words.
Challenging, Friendly and Brilliant.
What are your best memories of your time at Lancaster?
My best memories came from meeting people in my college, Fylde, and knowing them from day 1 till the day of graduation.
What are the best things about living in the Lancaster area?
The small city gives the area a real sense of community, you never feel far away from bumping into a mate.
What impact did scholarships or funding have on your degree experience?
A-level results gave me £1,000 when coming to university. Scholarships for my Masters allowed me to study free of charge, something I never thought was possible, making my Masters seem possible.
Which parts of your Lancaster experience were the best preparation for your job?
The Careers modules and real world context of the learning.
What impact has your Lancaster experience had on your career?
A brilliant impact - it has taught me not only how to study and research, but also to communicate more effectively with others in a professional setting.