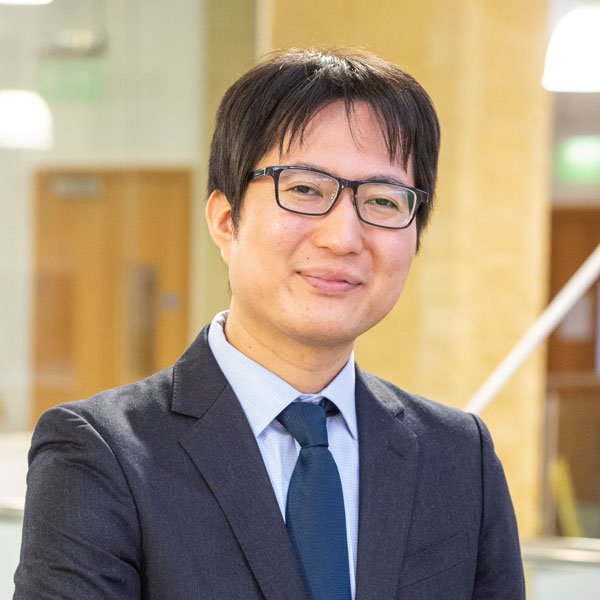 Yoshiki Takahata
Country Of Origin: Japan
Degree: Full-time MBA, 2020
---
Product Specialist, Medtronic
---
What did you do prior to joining the MBA?
I worked as an international marketing specialist in the medical device industry prior to joining the Lancaster MBA. I was responsible for a wide range of product marketing, including launching new products, creating marketing and regulatory strategy, sales management, distribution channel management and complaint handling.
Why did you decide to do an MBA?
As I was working for a small and medium-sized company, the scope of work I had to handle was extremely broad, and it was necessary to engage with other departments to carry out the project actively. For example, to set the proper quantity of stocks, I must have cooperated with several departments to understand not only the manufacturing lead time but also the delivery status from the factory to the warehouse.
In such a circumstance, I strongly felt that I need to have the necessary business knowledge and skills, to involve different departments successfully and to motivate and persuade people to cross departmental boundaries. This sort of necessity made me pursue an MBA.
Why did you choose Lancaster University?
While there are many business schools in the world, I found that The Lancaster MBA was the perfect match to myself because it offers not just hard skills such as accounting and operations, but also provides unique modules such as Mindful Manager that helps students to be a reflective manager through facing themselves in depth.
Also, I firmly believed that the Corporate Strategy module that is ranked 1st in the world enhances my quality of organization strategy design and how I orient people towards the same direction.
What did you enjoy most about the Lancaster MBA?
I was particularly attracted to the Corporate Strategy module. The most distinctive part of this module is that it covers not only how management theories and business frameworks should be used, but also with how they are influenced and sometimes hindered in relation to organizational culture.
As well as Corporate Strategy, I also enjoyed interacting with the cohort. The Lancaster MBA provides a truly multicultural environment with students from over 20 countries. The relatively small class size also helps to build a true friendship with the cohort, which I believe lasts forever.
How do you think the Lancaster MBA benefitted you?
The Lancaster MBA, with its well-designed course structure, has helped me to develop my ability to think critically and make decisions to solve complex business issues that have no right or wrong answers. In particular, the mixture of modules on business fundamentals and the four action-based challenges where we had to apply what we learned to the real business situations always provided profound learning experiences.
What do you need to consider before applying?
I believe MBA applicants should carefully think about whether taking a break from their career and joining an MBA program on a full-time basis would enhance their careers. I would also recommend that, when choosing a business school, applicants contact alumni to find out more detailed information such as life in the chosen business school that is not available in the brochures.
What is your next step now you have completed your Lancaster MBA?
With the skillset and mindset given to by the Lancaster MBA, I would like to work as a general manager in the healthcare industry and contribute to a better future.