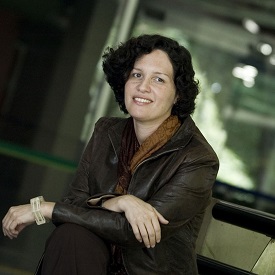 Ana Cristina Rodrigues da Costa
Country Of Origin: Brazil
Degree: MSc International Management (IMPM), 2019
---
Head of Capital Goods, Mobility and Defense, Brazilian Development Bank (BNDES)
---
Why did you choose to do the IMPM?
BNDES was going through a hard time. Its role and way of doing business were being questioned by Brazilian society, and as an executive I was concerned about my role as a leader to contribute at this moment of necessary change. So, my expectations were having the chance to experience new ideas, cultures and visions from abroad to rethink and open my mind to unseen opportunities.
What surprised you the most about the programme?
This programme was capable of making me discover and enhance my capacity to reflect in action, in a critical and constructive way. To turn off my active mind and my preconceptions, using my fears to open up new possibilities and see some invisibilities (contexts, people, new paths etc).
What have you used most in your business life as a result of the programme?
In a context of organizational change, I think it was to deal with the so-called "need of change": building possibilities for engagement on reflexive management, on a situated point of view (context, history, politics and power) to make better and prudent decisions, while using a critical action learning approach to discuss concerns, problems and decisions, reproducing and transforming knowledge.
What did you learn about yourself?
I discovered that I can listen and care in a particular form that discloses the world differently to me; that I can be in a reflexive mood that enables me to see myself alone in a situation of uncertainty and be at ease with it, embrace and allow more possibilities to open up, however never forgetting to be empathetic to other points of view. So, opening new possibilities or enlarging my choices made me more flexible, to build resilience and be prudent on a daily basis.
Your advice for future IMPM participants?
My advice is to embrace IMPM as an opportunity to discover new ways to deal with and solve problems, making decisions in a critically reflective way, accepting and embracing the normality of tensions in all levels, exploring them by creating meeting points and harnessing them as forces for creativity to open up new approaches.