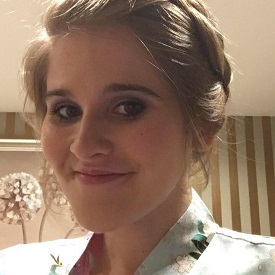 Laura Conchie
Country Of Origin: United Kingdom
Degree: BSc Finance and Economics (Industry), 2020
---
Technical Consultant, IBM
---
Why did you choose to study at LUMS?
When I was looking at universities, LUMS provided the opportunity to undertake a placement year/study abroad year during my degree. I also chose based on the employment prospects after university as Lancaster was one of the highest for this.
What was the best thing about your course?
I was able to choose, in my final year, from a large number of modules which for me included labour and health economics. My final year gave me the opportunity to further specialize into areas where I wanted my career after graduation to go. Even though I undertook a joint degree I was able to choose from a significant amount of Economics modules that single honours students could undertake.
What/Who inspired you most at LUMS and why?
I was very fortunate, throughout my degree, to encounter numerous lecturers who constantly inspired me in their teaching and research. In my final year, I enjoyed my labour and health economics modules due to this reason. Also, my dissertation supervisors supported me throughout the year and really inspired me by the incredible amount of passion they have for their research area and the support they want to provide to the students.
Did you do a project, placement or study abroad? What did this involve and what did you gain?
I did a placement within my third year at IBM, which is now my graduate employer. I was a business analyst but for me it was a lot more varied than I ever thought it would be. I gained an incredible amount of knowledge and experience of working for an international company for that extended period of time. The placement also inspired my dissertation topic and allowed me to secure a graduate job in the first half of my final year.
Describe your time at LUMS in three words:
Challenging, Memorable, Rewarding.
What are your best memories of your time at Lancaster?
I have loads of fantastic memories from Lancaster, from playing table tennis at 3am in County College games room to travelling to China for a 3-week summer exchange programme in my first year. Also, all the societies and part-time work I undertook through the 4 years, such as an ambassador role, a member of the women's cricket club and part of the events crew. I made some amazing life-long friends from Lancaster through my college, course and extra-curricular activities that I will always be grateful for.
What are the best things about living in the Lancaster area?
Being so close to the Lake District! It's great for hiking trips on the weekends and celebrating after exams in the summer. But also, the amount of coffee shops and the close proximity to everything you need. It's a big enough city to not get bored but also small enough so that you see a lot of people you know walking around every day. Also, Williamson Park and the canal walks are great during the summer when you want a revision break.
Which parts of your Lancaster experience were the best preparation for your job?
I think the workshops/ seminars you undertake each week. You definitely benefit more with the more effort you put into the preparation. I believe they give you a really good work ethic which helped me when I started my placement and now graduate job.
What impact has your Lancaster experience had on your career?
It has given me lots of professional connections that I wouldn't have had otherwise. Also, all the team within the LUMS career service were a huge help when I was searching for my placement, through 1-to-1s and CV help. I don't think I would have got my placement without their help.
Is there anything else about your LUMS experience that you'd like to share?
I wouldn't have changed anything over the past 4 years. I can't wait to come back for graduation!