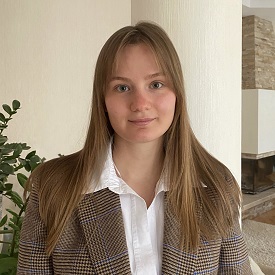 Sofia Reva
Country Of Origin: Ukraine
Degree: MSc Politics, Philosophy & Management, 2020
---
Economic and Public Policy Analyst, RSM UK
---
Why did you choose to study at LUMS?
Having done my undergraduate degree at LUMS, I knew that I would get outstanding teaching quality combined with rich academic and career support.
What was the best thing about your course?
The best thing about the PPM course is its flexibility, which was crucial for me in a degree that I decided to pursue to broaden my horizons. Having a few compulsory modules made sure I had a balanced programme in terms of subjects as multidisciplinarity is a core of PPM. I was also able to choose a mix of Politics and Philosophy modules from Social Sciences which I was passionate about. The most exciting thing about my course was my colleagues who were from different countries and have done various things in their life prior to PPM - completely different and unique life stories that is difficult to meet only within one degree programme.
What/Who inspired you the most at LUMS and why?
Bogdan Costea is definitely the most inspiring and influential person I've met during my university years. I encourage everyone to take his HRM II module in the second term of PPM. Professor Costea encourages you to think critically, which is perhaps the most useful skill one can have in the 21st century. His classes are very engaging and funny, but also intellectually stimulating and challenging. Without Professor Costea I wouldn't be where I am today, he's inspired my passion for knowledge and taught me to never be afraid of uncertainty. Thanks to his intellectual rigour, I am now able to comprehend the world and its everyday events from a completely different perspective. I am able to question and challenge things I never even considered before.
Describe your time at LUMS in three words.
Unforgettable, challenging and happy,
What are your best memories of your time at Lancaster?
I remember every bit of my time at Lancaster. Spending days in the library studying with my course mates, going out in the evening to a pub or theatre or simply playing pool in the college bar. I also managed to get a part-time job at University to cover my living costs which meant I met various people who worked for the university. I also was a part of the squash club and we had some social events. I tried climbing for the first time which was the most exciting thing ever! Just be proactive!
What are the best things about living in the Lancaster area?
Lancaster offers you a unique vibe and atmosphere that I haven't been able to find anywhere else in the UK. It is a small city, yet it has a rich history. It offers you not only beautiful landscapes of English nature, but also a vibrant cultural life. You feel a part of a community that is impossible to find in a big city. It is ideal for studying, but also for going out with your friends in the city centre or taking a train to Manchester or Liverpool. It has a nice proximity to Scotland and the Lake District is not to be missed.
What impact did scholarships or funding have on your degree experience?
Massive. I would not have been able to afford a Masters degree if LUMS didn't offer a scholarship, for which I will be forever grateful.
Which parts of your Lancaster experience were the best preparation for your job?
Numerous job preparation sessions: practice interviews and assessment centres, multiple tests. It is tedious, but you have to do it and LUMS careers team knows exactly how to help you get an offer.
What impact has your Lancaster experience had on your career?
Being clueless regarding my career aspirations throughout my undergraduate degree, I was hoping to get some direction during the PPM course. I received my graduate offer already in my 2nd month of the Masters. Applying for jobs is a part-time job in itself, it takes practice and time. The career support at LUMS helps you to build a good CV and work on your interview skills. They also bring a lot of employers onto campus so you get a chance to find out about their work in more detail.