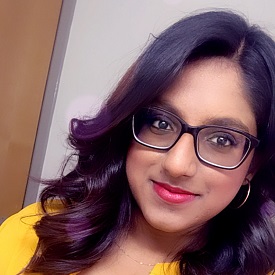 Tharusha Heenatigala
Country Of Origin: Italy
Degree: MSc Management, 2020
---
Senior Laboratory Technician, Circular 1 Health
---
What was the best thing about your course?
The variety of modules.
What/who inspired you most at LUMS and why?
I was inspired by the diversity of activities, which made me realise that all the curricular and extra-curricular skills and experiences I gained can be used everywhere and in any situation.
Describe your time at LUMS in three words
Challenging, supportive, diverse.
What are your best memories of your time at Lancaster?
I loved the trips and the group activities together.
What are the best things about living in the Lancaster area?
Williamson Park, the canal and the Sugarhouse [Students' Union nightclub]. Living in Lancaster is like living around a fun family. I lived in Lancaster for 4 years so it became my home.
Which parts of your Lancaster experience were the best preparation for your job?
The career based activities.
What impact has your Lancaster experience had on your career?
The general managerial knowledge (project management, etc) helped with getting more work and projects.