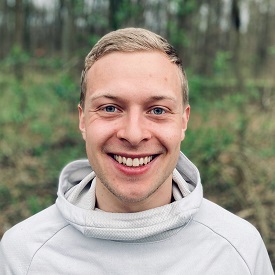 Thomas Lischka
Country Of Origin: Germany
Degree: MSc Finance, 2020
---
Trainee - International Talent Program, ING
---
Why did you choose to study at LUMS?
Firstly, I decided to come to the UK to study for a master's degree within one year. Besides, that Lancaster not only offered a high quality Finance degree but also professional qualifications like the CFA Level 1. And for me as a football fan, it was also beneficial to study near the city of my favourite club, Manchester.
What was the best thing about your course?
It was great to get a broad understanding in the first term and then have the opportunity to specialise in the second term. Also the elective modules in the second term are quite diverse, ranging from Behavioural Finance to Financial Econometrics.
What/who inspired you at LUMS and why?
I found it fascinating that many students came together to learn from each other besides their busy schedules. One example is the Ghosal Investment Fund of LUMS, which I was part of and which fascinated me the most as first-year to master students came together to learn from each other.
Did you do a project, placement or study abroad? What did this involve and what did you gain?
After my studies at LUMS, I did an exchange semester at ESCP in Paris. Luckily I was able to study in Paris and met a new international student community like I did in Lancaster. The study abroad scheme is a great opportunity to get to know another university and study topics that you wouldn't have thought of before (for me it was a course on "what does the brain do" at ESCP).
Describe your time at LUMS in three words.
Exciting - Unprecedented - Valuable
What are your best memories of your time at Lancaster?
One of my best memories is the morning routine to run from the city to the campus to have an English breakfast at the marketplace with a fellow student. And of course, it is great to think back to the evenings after the exams.
What are the best things about living in the Lancaster area?
As I cannot mention the weather here, I will definitely mention the nature and especially the Lake District and Yorkshire Dales National Park nearby. The university campus is also quite special with great facilities and a lot of things to do and explore.
What impact did scholarships or funding have on your degree experience?
A huge impact! The LUMS scholarship in combination with governmental subsidies enabled me to study for a Master's degree abroad. One year later, I can say it paid off for sure.
Which parts of your Lancaster experience were the best preparation for your job?
I think the combination of lectures, group assignments and self-study equipped me with valuable skills for the job. Besides, I've found that the Ghosal Investment Fund was a great preparation as well as you prepare presentations and need to convince your fellow students on that basis.
What impact has your Lancaster experience had on your career?
LUMS did not only prepare me for my future career but also helped me to sharpen my ideas on my career. Therefore, it was great to have a specialised career advisor as well as events with previous students to learn about their career path.
Is there anything else about your LUMS experience that you'd like to share with us?
If you have any doubt about whether or not to come to Lancaster, I hope that I already convinced you but if not, I can only encourage you to start this journey. It is not only rewarding for your future career but more importantly, it will be great for your personal development.