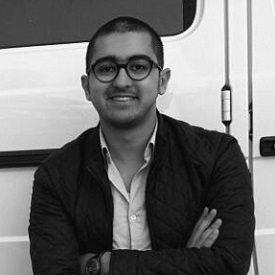 Réda El Boukfaoui
Country Of Origin: Morocco
Degree: MSc ITMOC, 2019
---
Sr. Geospatial Analyst & Mine Planning Officer, Managem Group
---
Why did you choose to study at LUMS?
There were various reasons that justified my choice. Mainly, it was about the reputation and the ranking that the university maintained and stood for. As I have come from a french-based education system, a big part of me also wanted to experience a different way of teaching through a 'research-based' higher education. As far as other university applications were concerned also, the departmental scholarship provided by LUMS also motivated my choice.
What was the best thing about your course?
The best thing about the course was the 'socializing' IT part. In fact, the course made me come out from my technical and IT engineering cocoon as it helped highlight the existence of an organisational system supported by the corporate goals, the people and their motives, THEN came the engineering.
What/who inspired you most at LUMS and why?
My classmates - with their various interpretations and approaches to problems - brought some inspiration to the way I am doing things, especially in the social part of the work.
If I get to pick that one person who inspired me the most, it would be Professor Theodore Vurdubakis who brought thoughtful social perspectives to the role of organisations within IT and Technology. Besides his targeted interactions, he was also present at all times to answer my final research concerns. His valuable feedback and motivating strategy throughout the research process helped push my limits as far as the critical and reflective analysis exercises within the consulting perimeter permitted it.
Describe your time at LUMS in three words.
International, mindfulness, fun.
What are your best memories of your time at Lancaster?
In terms of social experiences, participating in the Edible Campus was one of the best and original activities I have experienced so far at university, besides playing football with the graduate college team. The Edible Campus was an exposure that helped feed my national WWOOF experiences (host farming exchange) as it shed light over new perspectives on organic farming.
Apart from the Edible Campus experience, acting as a student ambassador for the management school happened to be a great initiative to look at now since it gets you even as a student to incorporate the school's image and you are expected to give the best possible impression during the university days, meeting conferences etc. My KPMG internship in London was also a great deal of an experience since the university got me access to KPMG top-management and subject matter experts who gave from their time to answer my questions as far as my research perimeter allowed it. Their perspectives and consulting experiences were also discussed within various business lines.
What are the best things about living in the Lancaster area?
The proximity to the Lake District, which provides amazing scenery and hiking tracks. From a traveling perspective and for those who would like to discover the UK, it is great to live mid-way between London and major Scottish cities as well. As far as the campus is concerned, the various facilities especially for sports, the greenery and the fresh air all around the campus provide a perfect environment for living and studying. Since Lancaster is a small city also, you don't get to experience traffic, noise or air pollution.