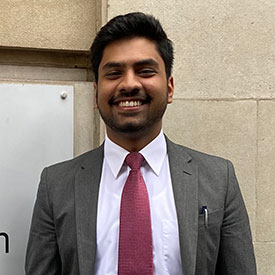 Faraz Ahmed Khokhar
Country Of Origin: Pakistan
Degree: BSc Economics, 2021
---
Internal Communications Officer, Department for Education
---
Why did you choose to study at LUMS?
I chose LUMS because it is one of the best business schools internationally. Apart from the rankings, it had a friendly and supportive environment when I visited on the applicant visit day. I knew it was a place for someone like me.
What was the best thing about your course?
I loved my course because of the flexibility it gave me. In the first year, I did entrepreneurship as a module. In the second, I picked up politics and international relations. In the final year, besides economics modules, I got to do a philosophy module. The teaching was also excellent.
What/who inspired you most at LUMS and why?
I was inspired by many people whilst I was studying at LUMS. Right from my college manager to my careers coach; everyone had an impact on me. I particularly loved the LUMS masterclass series where external speakers came on to campus and gave inspiring and, at times, quite moving speeches. It's hard to pick one or two: the whole experience was fantastic.
Did you do a project, placement or study abroad? What did this involve and what did you gain?
I got to travel to Malaysia in my first year - this was part of the cultural exchange programme with Sunway University. I learnt so much. I call it the 'professional holiday' because it wasn't just about roaming around and exploring the beauty of Malaysia. It was much more - we had practical sessions and lectures almost every day that gave us an insight into the history, culture and constitution of the country. There was a huge focus on sustainability as well, which was so important to learn more about.
Describe your time at LUMS in three words
Friendly, Empowering and Challenging.
What are your best memories of your time at Lancaster?
Besides the course, the social aspect was phenomenal. I just loved the campus vibe as well as the peace and tranquillity of the wider Lancaster-Morecambe area.
What are the best things about living in the Lancaster area?
Living in the Lancaster area means that you are close to the Lake District - a must to visit!
What impact did scholarships or funding have on your degree experience?
Coming from a lower socio-economic background, the Lancaster bursary allowed me to experience things I would have never otherwise done. For example, I travelled overseas besides Pakistan for the first time.
Which parts of your Lancaster experience were the best preparation for your job?
The careers team at Lancaster were fantastic. What makes the Management School so great is that they have their own dedicated team. I loved attending all the events that I did, particularly the ones on CVs and cover letters.
What impact has your Lancaster experience had on your career?
Huge impact. I was able to intern in my first year in the civil service. In my second, I secured some work experience with Mercer (also thanks to upReach). In my final year, I got on to the Government Communication Service which I am loving so far.