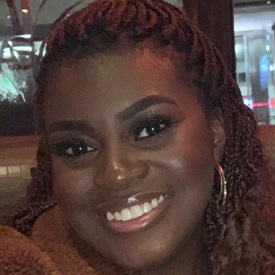 Alessandra Ozuzu
Country Of Origin: Italy
Degree: BSc Marketing Management, 2021
---
Marketing Graduate, Amazon
---
Why did you choose to study at LUMS?
When picking universities, I had a simple criteria: I was looking for somewhere that was known for its research, that was ranked highly in the league tables, that had an amazing marketing programme, and that was close to home but far enough to give me my independence. Lancaster, and LUMS, specifically ticked all of those boxes.
What was the best thing about your course?
I really liked how so many of the modules were well connected to marketing in real life. We were always asked to link theories, models and research papers to real-life marketing campaigns. Coursework was based around real industries, companies and products which made the things that we learnt very relevant.
What/who inspired you the most at LUMS and why?
I think that the people you meet and the network that you can create while at LUMS is an underrated aspect of life at LUMS. My coursemates were incredibly supportive during my degree, we would host pizza nights to apply for placements together, we had group revision sessions and went to several escape rooms. They inspired me to work hard and were part of my invaluable experiences at LUMS.
Did you do a project, placement or study abroad? What did this involve and what did you gain?
I completed a placement year at Amazon Prime Video and I was involved in delivering campaigns for Amazon originals shows. The fast-paced nature of the job taught me how to think on my feet and pivot when things didn't work out in the way that I initially envisioned. It's really important to either have a back up plan or to improvise, which is something that can be applied to all areas in life.
Describe your time at LUMS in three words.
Memorable, inspiring, impactful.
What are your best memories of your time at Lancaster?
I have some amazing memories from my time but I would say the unconventional ways that I met some of my closest friends have to be my favourite. I met people during society events, I had people tap me on my shoulder and met others while stressing over coursework. I made friends when I least expected it and I loved that.
What are the best things about living in the Lancaster area?
It's a great student city with people from all over the world and great hidden gems. The more you explore, the more you find out about how great Lancaster is.
Which parts of your Lancaster experience were the best preparation for your job?
The presentations, groupwork and simulation modules helped with understanding how the world of work operates. Also, attending guest speaker events held by societies and the Careers Team provided great insights.