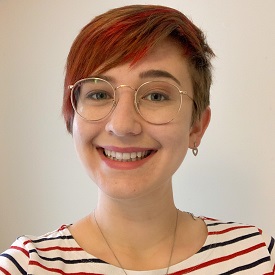 Bronwyn Francis
Country Of Origin: United Kingdom
Degree: MSc Human Resource Management, 2021
---
HR Discovery Graduate, Vodafone Group
---
Why did you choose to study at LUMS?
I really liked the fact that LUMS offered management degrees that actively engaged with the social and political issues of our time. The fact that LUMS encourages questioning of the status quo really appealed to me as an institution for further study.
What was the best thing about your course?
I really enjoyed the sociological underpinnings to the MSc HRM at Lancaster. I found exploring theories and frameworks that helped me to understand broader society - not just companies - really interesting. I also found the modules that improved my practical HRM skills in order to gain my CIPD qualification really helpful.
Did you do a project, placement or study abroad? What did this involve and what did you gain?
I really enjoyed completing my Master's dissertation that focused on how people experienced work-life balance during the Covid-19 lockdowns. It was really special to be able to work on something so up-to-date and produce a piece of work that documented genuine, lived experiences.
Describe your time at LUMS in three words.
Friendly, diverse, enriching.
What are the best things about living in the Lancaster area?
I loved the rural surroundings of the campus. Climbing Clougha Pike early in the morning was really special as I was able to see the whole of the surrounding coastline. I would recommend this to anyone. I also thoroughly enjoyed getting ice creams in Williamson Park when I was feeling less adventurous!
What impact did scholarships or funding have on your degree experience?
Being awarded the Country Scholarship and the Academic Excellence Scholarship allowed me to pursue my studies straight after my undergraduate degree. I wouldn't have been able to attend business school without these scholarships! I am really grateful to Lancaster for this support.
What impact has your Lancaster experience had on your career?
By achieving the Level 7 CIPD qualification through the MSc HRM course at Lancaster, I was able to step into my HR position at Vodafone Group. This high-level qualification was really excellent for career opportunities.