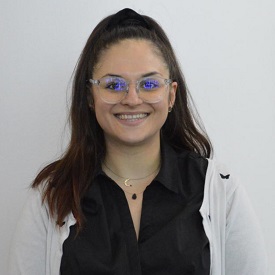 Tonina Takova
Country Of Origin: Bulgaria
Degree: BSc Business Management (Industry), 2021
---
Marketing & Sales Coordinator, Chester Students' Union
---
Why did you choose to study at LUMS?
My mother found an article about Lancaster University in the local newspaper (back home in Bulgaria) and I LOVED the way the campus looked, how prestigious the university was as an institution and the high number of accreditations LUMS had. After that I knew that I had to apply, pack my life and move to the UK to pursue my higher education.
What was the best thing about your course?
Business Management is a very practical degree which exposes you to so many aspects of business - from Marketing & Advertising to Economics, Management, Entrepreneurship, Ethics, Social Responsibility, Accounting & Finance and so much more! As someone who loses interest very easily, my course offered me a great variety and versatility in the way lectures were taught as well as the way we were assessed.
What/who inspired you most at LUMS and why?
It's so hard to pick just one person! So many of the lecturers I had the pleasure of working and learning alongside were passionate to share their research with us. Dr Jekaterina Rindt in particular, my Strategic Marketing lecturer. She inspired me to pursue a career within the marketing industry by sparking huge interest in me about the subject. My current full-time role is Marketing & Sales Coordinator but I also freelance on the side as a Social Media Consultant for charities, NGOs and small businesses.
Did you do a project, placement or study abroad? What did this involve and what did you gain?
I completed a Marketing placement in a local pharmacy. Joining a small pharmacy business that didn't have any prior marketing experience meant I had to learn how to produce work by myself which would be delegated to various teams and departments in bigger companies. As the year progressed, I grew to be what some would call a "full stack marketer". This means I have developed to a stage where I can autonomously run all marketing activities at Prestwich Pharmacy. I am now an expert in several different fields, such as content production, graphic design, website development, and social media management. Even though the autonomy I had at such an early stage of my career development was challenging, the experience gave me a very good understanding of the different aspects a career in marketing can offer and helped me to narrow down where my interests lie.
Describe your time at LUMS in three words.
Thought-provoking. Inspiring. Supportive.
What are your best memories of your time at Lancaster?
The most exciting project I worked on during my placement was my first solo campaign – a Reverse Advent Calendar – 24 days of giving. The idea behind the campaign was to collect 24 different items sold in the Pharmacy over Christmas to be donated to people facing homelessness. I researched what types of hygiene and clothing items were needed in the local street kitchen where I volunteered and created a campaign around it. I designed a huge advent calendar which we positioned behind the till, created an eye-catching shop display where people could donate items, and reached out to various suppliers to request free stock for the campaign. By the end of the 24 days, we had collected 612 items – ranging from socks and hand warmers to paracetamol, vitamins and hot water bottles. Pitching my original idea and linking my passion for helping homeless people to what I do at work, and creating such a huge impact in my community is a really proud moment.
What are the best things about living in the Lancaster area?
Lancaster is a very scenic town, surrounded by greenery and castles - going out for a walk feels like going back in time. Lancaster is truly one of the most beautiful cities you can visit. Apart from its views, Lancaster has some AMAZING vegan cafes such as Whale Tail where you can find real, locally grown produce, home cooked meals and super affordable prices. If you are a foodie who loves nature, Lancaster is the place to be!
Which parts of your Lancaster experience were the best preparation for your job?
Having bi-weekly meetings with the Careers Team helped me stay grounded and motivated. We used the time to reflect on my CV, the reasons I had been rejected, and to prepare for upcoming telephone interviews or assessment centres. The LUMS Careers Team are the most supportive and understanding staff members I have ever worked with, and I would 100% advise anyone to utilise the one-to-one meetings as well as attend careers workshops – those really helped me develop my understanding of how to use the STAR technique to structure my answers during interviews, as well as identify experience I didn't really think was relevant before.
What impact has your Lancaster experience had on your career?
From a shy university student to a marketing wizard in 13 months! Had I not had a placement in the marketing sector, I wouldn't have been able to test my strengths or find out that I want to work for a small business instead of a corporation.