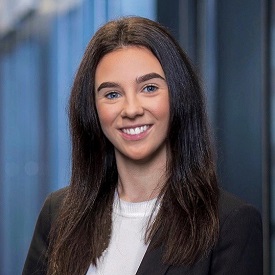 Maisie McLaughlin
Country Of Origin: United Kingdom
Degree: BSc Management and Information Technology (Industry), 2021
---
Consulting Analyst, Deloitte UK
---
Why did you choose to study at LUMS?
Lancaster is one of 11 universities to offer the Tech Industry Gold accredited Management and Information Technology degree. Through this, Lancaster collaborate with various employers to provide students with industry-relevant learning. By choosing LUMS, I gained access to excellent careers advice, current business practices and connections to alumni who were working in industry.
What was the best thing about your course?
As the programme is industry driven, Management and IT (MIT) provides a solid foundation of both business and technology in the workplace. By integrating two distinct practices, MIT propels students ahead of the vast competition in the graduate market. Additionally, studying MIT specifically at Lancaster gave me the flexibility to choose modules which truly interested me.
What/who inspired you most at LUMS and why?
Dr Yvonne Latham, based in the Organisation Work and Technology department at Lancaster, inspired me the most. This is as Yvonne, like myself, returned to education later in life, through an Access to Higher Education diploma. I admired Yvonne's proactive mindset, as she embarked on a new career to support her family. Likewise, when I was concerned about starting university as a mature student, Yvonne reassured me that it was no different. Thank you Yvonne!
Did you do a project, placement or study abroad? What did this involve and what did you gain?
I completed an industrial placement at Deloitte UK as a Consulting Analyst. During this, I supported the project management of an end-to-end technology transformation for a global pet care company. The industry knowledge, senior contacts, and professional experience I gained was truly vast. However, my biggest gain was being asked to return on Deloitte's graduate programme!
Describe your time at LUMS in three words.
Meaningful, collaborative, supportive.
What are your best memories of your time at Lancaster?
Being awarded the Outstanding Management and Information Technology student prize for obtaining the highest mark on my degree programme. Thanks to the prize sponsor, Industry Solutions, I received my first EVER trophy and a nice £250 cheque!
What are the best things about living in the Lancaster area?
There are so many wonderful elements to living in Lancaster. To name a few: Williamson Park, the ducks, the true sense of community throughout, and being only an hour away from the Lake District!
Which parts of your Lancaster experience were the best preparation for your job?
Embracing all opportunities that Lancaster presented undoubtedly prepared me for life at Deloitte. From mentoring new Management and IT students, to undertaking a professional industry placement, to completing and gaining a Gold Lancaster Award, to attending assessment centre simulations. Lancaster truly equipped me with a varied skill set that is valued by employers.
What impact has your Lancaster experience had on your career?
Without the support of LUMS Careers and my knowledgeable lecturers, it would have been difficult to secure my current role at Deloitte.