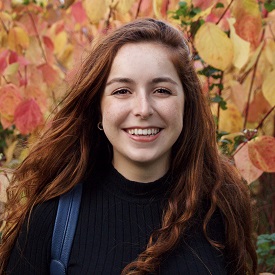 Letizia Drago
Country Of Origin: Italy
Degree: MSc Marketing, 2021
---
CX Consultant, Oracle
---
What was the best thing about your course?
I really liked the level of creativity that we were allowed to express in our assignments, it made essays and group projects a lot more exciting. I even got to write about my consumption of Spotify and plan a creative campaign for Disney's 100th anniversary!
Describe your time at LUMS in three words.
Exciting, international, memorable.

What are your best memories of your time at Lancaster?
Looking at the Guy Fawkes night fireworks from campus! I remember being so excited to share such a British tradition with my friends.

What are the best things about living in the Lancaster area?
Some people don't like it, but being 10 minutes away from pretty much anything (especially friends!) was one of my favorite things about Lancaster. It is also an area with lots of parks, nature and lovely walks so a great place to unwind and relax after lectures.
What impact did scholarships or funding have on your degree experience?
I received the Fulgoni scholarship, a full fee waiver for my degree. This scholarship made pursuing my degree possible and taught me to present myself and my achievements with pride. I am so grateful for this opportunity and for the trust that my department put in me.

Which parts of your Lancaster experience were the best preparation for your job?
Definitely the team work. At first I was a bit intimidated by the amount of teamwork required in my degree but it turned out to be the most useful skill in my career!