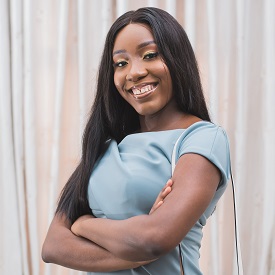 Funmilayo Olayinka
Country Of Origin: Nigeria
Degree: MSc Finance, 2020
---
Finance Analyst, Bank of America
---
Why did you choose to study at LUMS?
I chose to study at LUMS because of the location. From my research, I found that it was a very student friendly environment and especially affordable in terms of accommodation and other living costs. Another major reason was the business school's ranking in the UK and the world. I wanted a school that would help me achieve my career goals of being an international finance professional.
What was the best thing about your course?
The courses were very hands on. The lecturers made sure to teach us like it was real life work. Especially the assignments, we worked in groups to analyse major companies, which is what I do now in my job.
What/who inspired you at LUMS and why?
My class was filled with people from all over the world. I found that fascinating. I got the opportunity to meet people from other cultures and also learn from them.
Did you do a project, placement or study abroad? What did this involve and what did you gain?
During my studies, I did a dissertation on equity research. It involved using statistical tools to make inferences from the financial data of listed companies. I think it was one of the most interesting parts of my study at Lancaster University. The support was there and I was able to really broaden my knowledge about equity pricing mechanisms and really improve my data analysis skills.
Describe your time at LUMS in three words.
Challenging, Interesting and Rewarding.
What are your best memories of your time at Lancaster?
My best memories were learning about different cultures, eating different cuisines and working as a student ambassador for LUMS.
What are the best things about living in the Lancaster area?
It's a quiet city, and student friendly. Very close to major cities like Manchester.
Which parts of your Lancaster experience were the best preparation for your job?
The assignments were very practical. It forced you to think and even make use of tools that I now use at my job. For example, something as simple as building efficiency with Microsoft Excel VBA, Bloomberg terminal, working in groups, performing financial analysis on financial reports and many more.
What impact has your Lancaster experience had on your career?
The support from the careers team and the things I learnt from the courses really helped build my confidence and ability to push my career forward.
Is there anything else about your LUMS experience that you'd like to share with us?
My LUMS experience was really unprecedented but in the end, it was extremely rewarding. I was able to complete my ACCA qualification and get a job in the UK after my masters. It was challenging but I'm happy I decided to join the LUMS community.