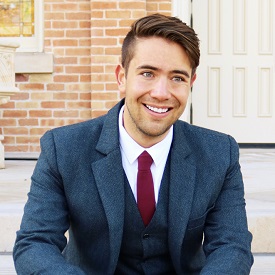 Joseph Whiting
Country Of Origin: United States
Degree: MA Human Resources and Consulting, 2021
---
Creative Strategist & Design Thinking Lead, KeyBank
---
What was the best thing about your course?
It was so interdisciplinary, we really got to explore the field of organizational theories and find our own areas to thrive in. The staff were so supportive and encouraged us to really develop ourselves in the areas we chose to write our dissertation in.
What/who inspired you most at LUMS and why?
The campus is so beautiful, I loved all the sprawling forest around campus and going on walks through it with my learning set as we talked about our lectures and our lives.
Describe your time at LUMS in three words.
Engaging, expanding, enlightening.
What are your best memories of your time at Lancaster?
The Consulting project was a real life experience that helped me get my current job. I also loved exploring the nearby towns on weekends or just walking around campus with friends.
What are the best things about living in the Lancaster area?
There's so much history! From the Roman ruins to the castle to the museum, there is so much to see. The nature in the area is also spectacular.
Which parts of your Lancaster experience were the best preparation for your job?
The real life consulting projects and the dissertation.
What impact has your Lancaster experience had on your career?
I wouldn't have my current job without Lancaster.
Is there anything else about your LUMS experience that you'd like to share with us?
Really just loved it! Brilliant experience.