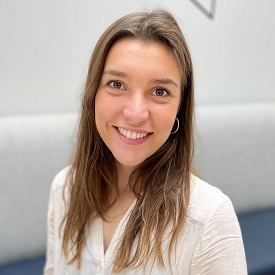 Charlotte Duckworth
Country Of Origin: United Kingdom
Degree: MA Human Resources and Consulting, 2021
---
Consultant, Higson
---
Why did you choose to study at LUMS?
I decided that I wanted to shift my career and develop the skills required to be a consultant. I was searching for a practical degree that would give me valuable experience as well as the academic backing to apply for graduate roles.
What was the best thing about your course?
The practical application of the skills learnt, which were directly relevant to the workplace and useful discussion points for interviews.
What/who inspired you most at LUMS and why?
I spoke to someone who had been on the course two years earlier. They were working for the company that I wanted to work for, so I copied their career path.
Did you do a project, placement or study abroad? What did this involve and what did you gain?
I did a consultancy project which involved working as part of a team of six with an external organisation, to address challenges relevant to us learning the skills of a consultant.
Describe your time at LUMS in three words.
Challenging - practical - teamwork.
What are your best memories of your time at Lancaster?
Presenting to clients external to LUMS and working with other students and those external to the university. This made the course a more accurate depiction of the working world and kept you sane when everything was upside down during the pandemic.
What are the best things about living in the Lancaster area?
The Lake District!
What impact did scholarships or funding have on your degree experience?
This took the pressure off my financial situation so I could focus on my studies. I was lucky in that I was in the unusual position of being able to live at home during the course.
Which parts of your Lancaster experience were the best preparation for your job?
The practical consultancy project.
What impact has your Lancaster experience had on your career?
It has enabled me to get a job in the field I was hoping to move into, I couldn't have done it without my degree.
Is there anything else about your LUMS experience that you'd like to share with us?
It was a challenging year in the midst of the pandemic. The lecturers and university did their best to support us as students and ensure we benefited from the course despite the circumstances.