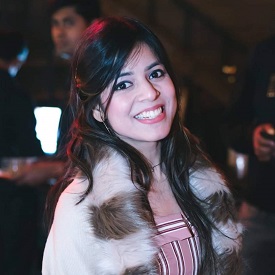 Ritika Arora
Country Of Origin: India
Degree: MSc Business Analytics, 2021
---
PhD Student, Lancaster University
---
Why did you choose to study at LUMS?
It is a great university, and top 10 ranked management school with quadruple accreditation.
What was the best thing about your course?
The support from professors, and the course curriculum.
What/Who inspired you the most at LUMS and why?
Considering COVID-19 blended learning, the most inspirational parts were the roles I had like academic representative, lead representative, student ambassador and academic officer. It inspired me because it showed me how to achieve more and know how far I can go beyond my limits.
Did you do a project, placement or study abroad? What did this involve and what did you gain?
I did an industrial project which involved retail forecasting of special products. I learned how to approach the problem and how to do extensive research for the same. I also learned a problem can be approached in many ways and it totally depends on which approach we take. Good time management along with new models learning was an additional pro.
Describe your time at LUMS in three words.
Awesome, inspiring, challenging.
What are your best memories of your time at Lancaster?
Great friendship, beautiful and serene city life, the openness to talk to professors without hesitation, cool housemates.
What are the best things about living in the Lancaster area?
It's pretty calm and serene but it's happening with friends. Also, there are great pubs to enjoy.
Which parts of your Lancaster experience were the best preparation for your job?
The tools that were taught during the term time. Also, a free zone that came with coursework, to explore models on your own.
What impact has your Lancaster experience had on your career?
A great impact. Because of what I studied in terms of the tools and theoretical knowledge, it helped to secure my PhD scholarship.