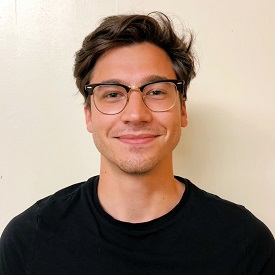 Arturo Berlusconi
Country Of Origin: Italy
Degree: MSc Marketing, 2021
---
AV Executive, MediaCom
---
Why did you choose to study at LUMS?
When I was finishing my Bachelor's in Italy, I decided I wanted to challenge myself by moving to another country to continue my studies. While attending a conference on various Masters programmes abroad I discovered Lancaster. I really appreciated the educational offer, the career opportunities afterwards and the fact that it was one of the best universities in the UK.
What was the best thing about your course?
I would probably say group work. There are many projects during this course and you often have to work with students from different countries, with different cultures and different academic backgrounds. It is exciting to see what such a heterogeneous and multicultural team can create. Projects have always been interesting and create many opportunities to understand what you are really good at and your strengths and weaknesses.
What/who inspired you most at LUMS and why?
I believe my classmates. You can always learn new things from them, new points of view and ways of seeing the world, both professionally and culturally. By sharing a lot with your classmates you can create new friendships, linked by common experiences both regarding the course and living on campus.
Describe your time at LUMS in three words.
Discovery, Satisfaction, Results.

What are your best memories of your time at Lancaster?
From the course, working together with my project mates, sometimes late at night but because we were having fun working together and it felt like playing more than a chore. Socially, as an Italian, to see Euro 2020 won by Italy in the university pubs with my Japanese roommates, who bought an Insigne shirt. Outside Lancaster, the various trips I made with my friends to Liverpool, Manchester, Edinburgh and the Lake District.
What impact did scholarships or funding have on your degree experience?
I received a national scholarship and a departmental scholarship. These scholarships made my degree possible by cutting my university fees in half. I am very grateful for this opportunity and for the trust my department placed in me.

Which parts of your Lancaster experience were the best preparation for your job?
I would say respect the deadlines. Knowing how to manage your time, delivering assignments, projects and essays on time is extremely helpful for a future career. Knowing how to confidently say during interviews that you know how to meet deadlines is essential. Beyond this, you need to know how to manage your time outside of study or work, dedicating time to leisure, hobbies or friends. This is also helpful for a future job that will take up a lot of your time.
What impact has your Lancaster experience had on your career?
After many applications, I did 3 interviews with large companies. Being able to say that you are doing well at a university like Lancaster certainly has a positive effect during interviews. I found a job in London and started a month after finishing the course, this after only one year of living away from Italy.