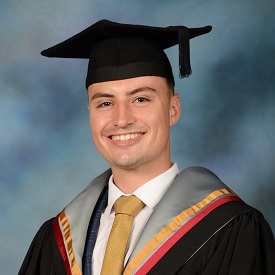 Richard Smith
Country Of Origin: United Kingdom
Degree: MSc Logistics and Supply Chain Management, 2021
---
Audit Graduate Trainee, KPMG
---
Why did you choose to study at LUMS?
It is a prestigious business school with excellent facilities and support. Lancaster felt like home as soon as I set foot on the campus.

What was the best thing about your course?
The opportunities provided. In the MSc I was able to work with Yusen Logistics and in my BSc I was able to work with Piccadilly Gardens - a charity which supports people with disabilities.

What/who inspired you most at LUMS and why?
Kostas - for always being energetic and teaching the most interesting up and coming topics. Adam - he is a wizard at Excel. Richard - the most down to earth lecturer, who showed me you could balance work with fun!

Did you do a project, placement or study abroad? What did this involve and what did you gain?
My MSc project gave me first-hand experience of the essential supply chain network. I looked at optimising different elements of the supply chain such as the environmental impact. Ultimately the most important thing I gained (beyond the insight) was the contact and friendship with the client at Yusen Logistics.

Describe your time at LUMS in three words.
Empowering, Innovative, Can-I-Come-Back?

What are your best memories of your time at Lancaster?
By far Lonsdale College was responsible for a majority of the "after-school" fun. Other great memories are with the Music Society at UniBrass competition and with the Lancaster Roses Cheerleading Society which took me out of my comfort zone and to podium position at national championships!

What are the best things about living in the Lancaster area?
The ability to walk along the canal for 5 minutes and feel away from everything, beautiful scenery and surrounding areas.
Which parts of your Lancaster experience were the best preparation for your job?
Project management, Excel, and negotiation modules in LUMS. Projects outside through Lonsdale College JCR that taught me how to manage budgets, my time, and be confident to speak to people in positions of authority.

What impact has your Lancaster experience had on your career?
If it wasn't for Lancaster I wouldn't have known what opportunities were available, especially up North in Manchester, where I first visited with the university (albeit on a night out). Lancaster has taught me how to manage exams and optimally use feedback to improve on my performance at work.
Is there anything else about your LUMS experience that you'd like to share with us?
I would like to thank all the staff for their support over the years, the freedom the course provided enabled me to find out what I really enjoyed and wanted to pursue as a career. Thank you for the best 4 years of my life.