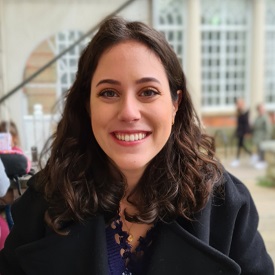 Ioanna Pelidis
Country Of Origin: Greece
Degree: MSc Advanced Marketing Management, 2021
---
Affiliate Executive, MediaCom
---
Why did you choose to study at LUMS?
Since I was moving from a different country, I wanted to go study someplace that had a strong community. I wanted the transition to be smooth and comforting - which it was. The course itself appealed to me because of its practical aspect and how I would be able to take my previous theoretical knowledge and apply it.

What was the best thing about your course?
The lecturers! They were so lovely, welcoming, engaging and thoughtful. They genuinely tried to get to know us and highly encouraged everyone to get involved.

What/who inspired you most at LUMS and why?
Alan Gilchrist - he was so energetic, thoughtful and motivated to get everyone to learn and communicate.
Describe your time at LUMS in three words.
Fun, developing, engaging.

What are your best memories of your time at Lancaster?
My best memories were the ones around Roses. The weather, the company and the energy were so good!

What are the best things about living in the Lancaster area?
I loved how everyone in Lancaster is about supporting their community - shops supply local farms and bakeries.
What impact did scholarships or funding have on your degree experience?
Receiving the country scholarship motivated me even more to pursue my masters because it released some financial pressures and allowed me to relax more while completing my course.
Which parts of your Lancaster experience were the best preparation for your job?
The ERS [Employment & Recruitment Service] internships really helped to pad my CV and build my skill sets. They also allowed for me to try out different roles in Marketing and figure out more clearly what kind of job I wanted to pursue in the future.

What impact has your Lancaster experience had on your career?
Through my studies I learned about all different types of companies and what their work cultures were like. I learned what a good company would be like and which companies I would be enthusiastic about working for.