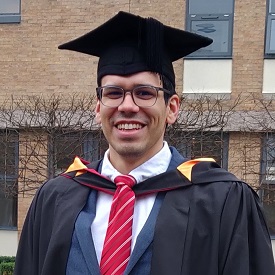 Rodrigo Benitez
Country Of Origin: Paraguay
Degree: MSc Business Analytics, 2021
---
Data Analyst, Marks & Spencer
---
Why did you choose to study at LUMS?
Because of its reputation and international recognition.
What was the best thing about your course?
The professors were very knowledgeable, as well as friendly and approachable.
What/Who inspired you the most at LUMS and why?
The remarkable research output in the field of retail forecasting.
Did you do a project, placement or study abroad? What did this involve and what did you gain?
I did a forecasting project with an important retailer in Europe, where I acquired invaluable experience developing machine learning models with real business data.
Describe your time at LUMS in three words.
Challenging, fulfilling & fun!
What are your best memories of your time at Lancaster?
The lovely city and the awesome friends I made there.
What are the best things about living in the Lancaster area?
Going for a coffee near the castle or to relax in Morecambe next to the sea.
Which parts of your Lancaster experience were the best preparation for your job?
The cutting-edge concepts and techniques I learned throughout my masters.
What impact has your Lancaster experience had on your career?
It allowed me to start an exciting career in the UK.