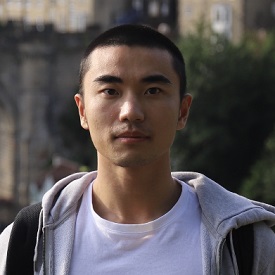 Yuhui Jiang
Country Of Origin: China
Degree: MSc Project Management, 2021
---
Portfolio Management Specialist, Ford Motor Company
---
Why did you choose to study at LUMS?
There are several reasons. Firstly, LUMS in Lancaster University has a very high reputation both in the academic and business worlds. Secondly, the course setting of the MSc Project Management was extremely attractive to me, because it combined all PM knowledge in terms of practical and academic aspects. Thirdly, there was the chance for me to cooperate with a real company when working on my final dissertation, which is an excellent opportunity to understand what a real business environment is like and how to manage a project in reality.
What was the best thing about your course?
I think the best thing about my course is the combination between PM knowledge and project simulation. In every term, I not only learnt the professional knowledge, but also got the chance to be involved in a project. It is the most effective way for us to learn how to put knowledge into practice.
What/who inspired you most at LUMS and why?
To be honest, I was inspired by all teachers who I met on our campus. The most impressive thing is that at the beginning of the first term, Dr Stephen Eldridge suggested that I be a student rep in the PM class. I adopted his suggestion, and became a student rep. I really appreciate his encouragement at that moment. Thanks for giving me the confidence to be a part of our community, where I could do something for my classmates, especially during the Covid-19 pandemic.
Did you do a project, placement or study abroad? What did this involve and what did you gain?
We did many projects during the whole year. I played different roles in different teams. What I gained from those experiences is how to work with your team members to deliver things with a high quality and to schedule. I also learnt that human beings are super diverse; we have different leadership styles, personalities, and values. Being a good PM, you have to learn how to get used to different team environments.
Describe your time at LUMS in three words.
Exhausted; Ambitious; Hopeful.
What are your best memories of your time at Lancaster?
I will never forget the things that we did on our campus, like barbecuing with friends, working out in the gym, and brainstorming with my team in the meeting room. I would even say sitting in my room to attend lectures via Teams is also a good memory!
What are the best things about living in the Lancaster area?
Very nice local people; a quiet campus environment without any interruption; advanced university facilities.
Which parts of your Lancaster experience were the best preparation for your job?
PM knowledge (learnt from courses); Project experiences (learnt from teamwork and dissertation); System thinking, critical thinking, and reflective thinking (learnt from academic writing). I used these things during my job-hunting process.
What impact has your Lancaster experience had on your career?
My Lancaster experience gave me the confidence to face and conquer future challenges. It also always reminds me that I was a student in one of the world's top business schools and that my behaviour represents LUMS's reputation, so I will set up a more strict criteria to push myself moving forward.