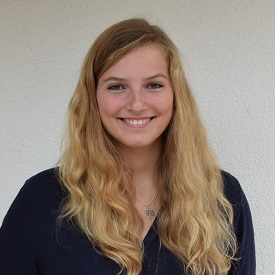 Clara Seggewisse
Country Of Origin: Germany
Degree: MSc Finance, 2021
---
Deals Trainee, PwC
---
Why did you choose to study at LUMS?
LUMS is an excellent business school that not only offers a great program over one year, it also gives you the chance to take the CFA Level 1 exam. This was not limited to financial support, we were also given great training to prepare for the exam and the mock exam was included in our degree, so it was a win-win situation for me.
What was the best thing about your course?
It was great to not only learn the theory but to also have real-life companies to analyse in our group projects. This really enabled us to apply our knowledge to the real world and understand what we were studying for.
What/who inspired you at LUMS and why?
My fellow students, who all worked hard for a year to achieve the best possible degree that can open all doors. And the lecturers who always gave us advice and support whenever we needed it.
What are your best memories of your time at Lancaster?
Despite Covid, my flatmates and I had a great time together. We made the most of the year together and it was a lot of fun. But I also had many great experiences with my fellow students because the programme brought us together.
What are the best things about living in the Lancaster area?
The sea and the Lake District are as close as Manchester, so there's something for everyone. There are also great walks around Lancaster.
What impact did scholarships or funding have on your degree experience?
The LUMS scholarship I received was the decisive factor in why I went to Lancaster. But the CFA scholarship I received also gave me the opportunity to fully concentrate on my plans and achieve my goal of passing CFA Level 1.
Which parts of your Lancaster experience were the best preparation for your job?
The Master's gave me the knowledge that I now use every day in my job. The LUMS careers team successfully supported me in thinking about what career I would like to pursue.
Is there anything else about your LUMS experience that you'd like to share with us?
I had a great time at Lancaster, and I can recommend it to anyone thinking about it. It is an intense and exhausting year, but after I finished I felt competent and prepared to achieve anything I set my mind on.