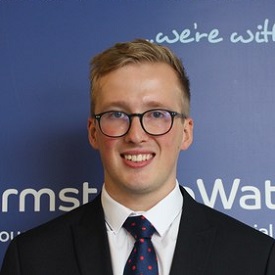 Jamie Barker
Country Of Origin: United Kingdom
Degree: MSc Management, 2021
---
Audit & Assurance Assistant, Armstrong Watson LLP
---
Why did you choose to study at LUMS?
To learn from academics at the top of their field in a vibrant and welcoming community.
What was the best thing about your course?
As part of the MSc Management, being able to study all areas of a business with insight from industry professionals is unlike any other course.
What/who inspired you most at LUMS and why?
Being surrounded by intelligent and motivated individuals on a day-to-day basis pushes you to relentlessly improve.
Describe your time at LUMS in three words.
Insightful, inspiring & professional.
What are your best memories of your time at Lancaster?

Being part of the university rugby union club was integral to making my time at Lancaster as enjoyable as it was.
What impact did scholarships or funding have on your degree experience?
The High Potential Scholarship scheme meant that being part of LUMS was a financially viable option, something which I am extremely grateful for and would highly recommend applying for.
Which parts of your Lancaster experience were the best preparation for your job?
Gaining an all-round knowledge of how businesses operate is essential in my day-to-day role, working with clients and building relationships.