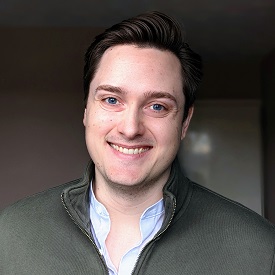 Kieran Arron
Country Of Origin: United Kingdom
Degree: MSc Logistics and Supply Chain Management, 2021
Why did you choose to study at LUMS?
The pandemic accelerated my plan to return to full-time study. It was important to me that wherever I studied was well regarded for its world-class research and links to industry. LUMS was immediately my first choice as it fulfilled both of these requirements, but the university was also named international university of the year, and Lancaster is in a beautiful area of the UK. It had everything I could have wanted in a university.

What was the best thing about your course?
The endless opportunities to learn! Whether it was the deep research or just listening to classmates, the learning never stopped.

What/who inspired you most at LUMS and why?
Everyone I came to know but particularly my flatmates. I couldn't have achieved what I did without them. That flat was such an important support network and whether to celebrate or complain there was always someone available, and trying to be my best self was so easy to carry on doing in that flat despite the uncertainty that existed outside of its walls. So yeah, my successes belonged to everyone in that flat.

Did you do a project, placement or study abroad? What did this involve and what did you gain?
I was lucky enough to do a research project examining how the extent to which the procurement system of drugs in secondary care supports a resilient supply chain. The two main activities of this project were a large literature review and a content analysis of tendering and framework agreement documents. All the record keeping and systematic data collection and analysis skills I had to develop have been invaluable to me in the industry that I'm working in now. I really enjoyed the research process, and returning to education again to pursue a PhD is my next plan. I think the consideration of resilient and viable healthcare supply chains here in England is an under-explored research area and could have many practical implications for healthcare in England.

Describe your time at LUMS in three words.
Challenging. Engaging. Pleasure.

What are your best memories of your time at Lancaster?
All the practical elements of the course, especially the negotiation with Kostas and the ERP completion with Dr Yiyi Fan. The weekly flat dinners where one of us would cook for the rest of the house were always so much fun, especially in the festive period! The entire experience of the third semester leading up to hitting submit on my project and the catharsis that came with it - I'll never forget that and the celebrations that came after!

What are the best things about living in the Lancaster area?
The countryside. The coast, the mountains, and lakes are all super close by. Then there's the high speed train links to Scotland and London. Finally, to me Lancaster was the perfect size city - always with something to do but everywhere is easily walkable. I hope to return permanently in the future!
Which parts of your Lancaster experience were the best preparation for your job?
Everything was important. I think my soft skills developed well beyond the level they were at when I started. The course also gets you to apply what you're learning and researching to practical issues. At work now I think that's helped me effect changes quickly by being able to operationalise concepts.

What impact has your Lancaster experience had on your career?
That's difficult to measure! I've always tried to keep my career open-ended. I think the best endorsement of Lancaster's impact is that there's mutual interest currently to explore ways that I can pursue my education while remaining at work.