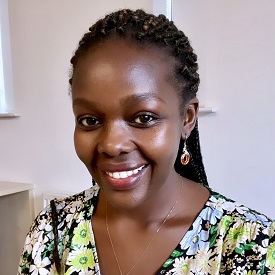 Anne Githu
Country Of Origin: Kenya
Degree: MSc Advanced Marketing Management, 2021
---
Founder & Managing Director, SustaiNow Media Lab
---
Why did you choose to study at LUMS?
I was looking for a reputable business school with the right course for my marketing management level. LUMS staff were very engaging and helpful from an early stage of my application and helped me find the right fit. Out of my three final choices, I felt LUMS gave me personal attention and support.

What was the best thing about your course?
The course focussed on practical application in marketing management (as opposed to theoretical knowledge), and was therefore very fitting for someone with past experience in marketing and looking to advance.

What/who inspired you most at LUMS and why?
I did my degree amid the pandemic lockdowns which was a very difficult time for everyone. I was inspired by the willingness of my colleagues to connect with each other online, make friends and achieve objectives timely and effectively. Most of the lecturers also went out of their way to make the online classes interesting and engaging. It was all round an inspiring experience.
Did you do a project, placement or study abroad? What did this involve and what did you gain?
I did my dissertation on the UN climate negotiations, from the perspective of business negotiations. It was a very eye-opening exercise which led me to research further on sustainability and the UNSDGs. This research has heavily contributed to the crafting of my service offering in my new business.
Describe your time at LUMS in three words.
Dynamic, Insightful, Productive.

What are your best memories of your time at Lancaster?
I really enjoyed the entrepreneurship discussions at Work in Progress, it was inspiring to watch ideas transform into real businesses. I also did internships with SMEs in Lancaster throughout, which formed part of my best and most valuable experiences.

What are the best things about living in the Lancaster area?
I found it safe and calm. I really enjoyed taking long walks through the forests around the University, enjoying the scenery and the quiet, feeding ducks and just having time to relax and exercise.
What impact did scholarships or funding have on your degree experience?
As an international student, my financial obligation was quite high. Receiving a departmental scholarship was a very welcome intervention, it went a long way in offsetting part of my tuition fees and allowed me to focus on getting my degree.
Which parts of your Lancaster experience were the best preparation for your job?
Work in Progress was very helpful in shaping my entrepreneurial journey through training, advise, peer-to-peer talks and access to resources. The Employment and Recruitment Service also helped me acquire UK experience through working with local SMEs. Both experiences will be instrumental in running my own business.

What impact has your Lancaster experience had on your career?
Being in Lancaster has provided me with important knowledge that I really needed, to be in a position to manage my own business. It has also opened so many doors and opportunities to meet people who have been instrumental in my entrepreneurial journey.