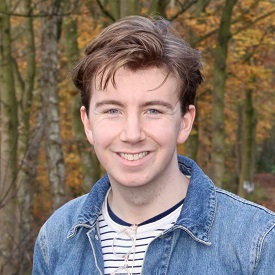 Sam Procter
Country Of Origin: United Kingdom
Degree: MSc Advanced Marketing Management, 2021
---
PhD Marketing, Lancaster University
---
Why did you choose to study at LUMS?
LUMS is a reputable institution with a collection of fantastic researchers and a brilliant set of facilities all in one place.
Describe your time at LUMS in three words.
Eclectic, eye-opening, empowering.

What are your best memories of your time at Lancaster?
The people, without doubt. The friends I made at Lancaster are friends for life, and the learnings from teaching staff will stay with me forever.

What are the best things about living in the Lancaster area?
I'd say the scenery: you've got The Lakes just north of Lancaster, and you're so close to the beach at Morecambe. Even just on the campus there's so much greenery and woodland, it really does add to the whole experience.
Which parts of your Lancaster experience were the best preparation for your job?
I think the social skills I developed at Lancaster probably gave me the most preparation for work. It's hard to describe how and why that's the case, I suppose you just meet so many new people and develop social skills exponentially and entirely subconsciously, it just happens.