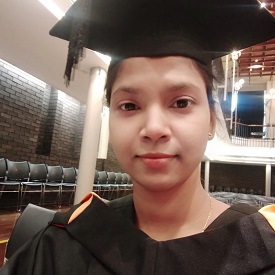 Sonal Gupta
Country Of Origin: India
Degree: MSc Project Management, 2021
---
Project Manager, Transaction Network Services
---
Why did you choose to study at LUMS?
LUMS met all of my criteria in terms of providing practical exposure and learning along with being a renowned top university in management and research. Therefore, LUMS was my first and final choice.
What was the best thing about your course?
Fundamental insights of project management, practical learning and the opportunity to explore other subjects that were beneficial in improving my knowledge and organisational skills, along with tutors who were experienced and always ready to help.
Did you do a project, placement or study abroad? What did this involve and what did you gain?
As part of my final term, I had the opportunity to work on a project for an external client. The project objective was to perform a cost-benefit analysis and look into the operational implications that the organization would have when bringing customs declaration processes in-house. This was challenging work as it involved studying a whole new area. At the same time it gave me a good learning experience of working on a real project for real clients, which is entirely different to the academic world. The project gave me a chance to apply all the theoretical learning into practical work, thereby helping me in understanding the areas I did best and what needed further improvement. It has indeed helped in improving my project management skills and being more confident when facing the real world.
Describe your time at LUMS in three words.
Exciting, Inspiring, Life-Changing.
What are your best memories of your time at Lancaster?
Meeting diverse people, settling into a new environment, experiencing a different culture, completing assignments, and trips to the city centre on weekends. Everything was fascinating and exciting for me and these have become a part of my lifetime memories.
What are the best things about living in the Lancaster area?
It is a fabulous place to stay, far from the crowded city life and where you can enjoy the peaceful countryside, with lots of green environments. I also liked the area as everything was available easily and within walking distance.
Which parts of your Lancaster experience were the best preparation for your job?
Knowledge gained from my project management courses (basic and advanced), working for real client in my final project, meeting alumni and attending sessions by LUMS career services - all these indeed helped me while preparing myself for a job.