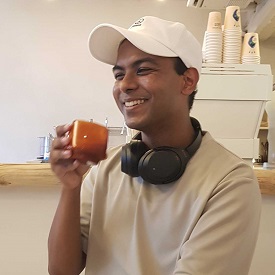 Fatin Ahmed
Country Of Origin: Netherlands
Degree: MSc International Business & Strategy, 2021
---
Marketing & Community Manager, NAKD SEOUL
---
Why did you choose to study at LUMS?
Prior to doing my masters at LUMS, I completed my undergraduate studies at the University's Lancaster Environment Centre (LEC). I have always had a keen interest in learning how multinational companies operate and formulate strategies to grow and compete in the global economy. The MSc International Business and Strategy programme offered me the opportunity to develop this interest.
What was the best thing about your course?
I would say it was the course content, which was based on real-time examples. For all the group work I did it felt like real-life simulations in the work place, e.g. my fondest memory was when me and my group were given the task to formulate a strategy to help a bakery company to enter a new market abroad. We had to use the concepts and knowledge taught in our lectures to find the ideal international market for the company's product, including to assess the threats/barriers faced and the benefits available for the company entering this new market. The course gave me a taster of what it would feel like when working in a full-time position as a strategist and consultant.
What/who inspired you most at LUMS and why?
My professors, especially Florian Bauer and Yves-Martin Felker. They were incredibly passionate about mergers & acquisitions, it made me very keen to keep my options open for a possible career in this field. My friends on the programme and when working as a LUMS Student Ambassador made my time very enjoyable as well.
Did you do a project, placement or study abroad? What did this involve and what did you gain?
I completed a study abroad programme in South Korea at Sogang University, which is one of the most prestigious and competitive universities in Korea. I specifically wanted to study Marketing-related subjects and I also studied the Korean language. What I gained is that I can speak another foreign language which makes a total of 5 (with Dutch (mother tongue), German, English and Bengali). After completing my study abroad programme I landed the position of Marketing & Community Manager at NAKD SEOUL.
Describe your time at LUMS in three words.
Life-changing, inspiring & professional.
What are your best memories of your time at Lancaster?
My position within the Students Union and working at the Central [shop]. I made amazing life-long friends at both these places.
Which parts of your Lancaster experience were the best preparation for your job?
The content and assessment of the course, and the study abroad programme.
What impact has your Lancaster experience had on your career?
I landed a dream job in a marketing position in the Korean entertainment sector.