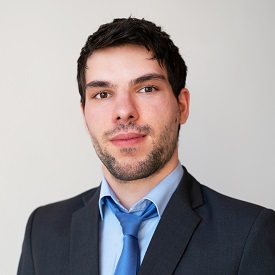 Tamás Jurecska
Country Of Origin: Hungary
Degree: MSc Advanced Financial Analysis, 2021
---
Equity Risk Analyst, Morgan Stanley
---
Why did you choose to study at LUMS?
There are a lot of factors to consider when choosing the ideal university and the most appropriate programme. Lancaster University has an excellent academic reputation and international ranking. Besides, my chosen course (Advanced Financial Analysis) is exceptionally beneficial since its curriculum contains special modules with the aim of preparing students for the CFA exam. In addition, students receive access to numerous leading financial databases such as Bloomberg Terminal.
What was the best thing about your course?
I had the opportunity to work on a complex project with my classmates. This helped me to learn how to apply theory to solve real-world financial problems. Besides, I was able to improve my skills in communication (both in forms of writing and presentations), critical analysis, and practical financial analysis. The biggest benefit for me, however, was the possibility of cooperation, and learning from my teammates.
Describe your time at LUMS in three words.
Challenging, practical, teamwork.
What are your best memories of your time at Lancaster?
We spent most of the time online because of the pandemic restrictions. That is why all personal meetings were greatly appreciated: a trip to the sea, cooking together, dinners at the nearby pub, or just wandering the streets in Lancaster.
What are the best things about living in the Lancaster area?
Nature is all around you: squirrels at your window, rabbits on the nearby fields...
What impact has your Lancaster experience had on your career?
I consider the combination of theoretical education and practice-oriented project work as highly beneficial to my professional progress. Besides, I had the possibility to improve several skills (programming, communication, problem-solving etc.), work in teams as well as alone. The master's degree in finance from Lancaster University together with the CFA designation enabled me to successfully apply for the position of Equity Risk Analyst at Morgan Stanley.