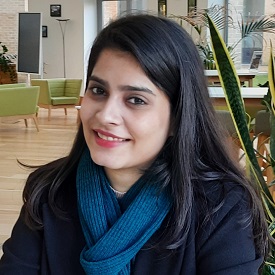 Priya Chauhan
Country Of Origin: India
Degree: MSc Human Resource Management, 2022
---
Future Leaders Programme (UFLP-HR, 2022), Unilever
---
Why did you choose to study at LUMS?
After having three years of experience in HR, I was looking for a one-year masters programme in Human Resource Management. I found the programme structure at LUMS comprehensive. It is a perfect blend of varied aspects of HR from the lenses of academics as well as practice. I chose to study at Lancaster University also because of its excellence in the research field.
What was the best thing about your course?
A diverse cohort facilitated the exchange of various ideas and perspectives around the most contemporary HR and Organisation-related practices and frameworks. It helped to strengthen the subject matter knowledge in HR, and to develop an understanding of international practices.
What/who inspired you most at LUMS and why?
The continuous support and guidance rendered by the academic staff for the smallest to the biggest things inspired me. It instilled in me a sense of responsibility to value their guidance and efforts, and grow as an individual.
Describe your time at LUMS in three words.
Joyous, Constructive and Momentous.
What are your best memories of your time at Lancaster?
The 'PG Summer Dinner' organised by the OWT department is definitely the one that I will cherish forever. The happy conversations and laughter were captured in an impromptu photo session, creating memories that I will treasure forever.
What are the best things about living in the Lancaster area?
The Lancaster area is peaceful and full of natural beauty and biodiversity, making it an ideal place for academic pursuits. It has a serene environment conducive to focus on learning. The area is also well connected with all major cities by fast trains and buses.
What impact did scholarships or funding have on your degree experience?
As an international student the 'OWT Departmental Scholarship' encouraged me to pursue this programme.
Which parts of your Lancaster experience were the best preparation for your job?
The seminars and workshops conducted as part of the curriculum provided a platform to bridge the gap between theory and practice. Also, the professional experiences shared by visiting faculty and guest speakers allowed us to appreciate the nuances in corporate HR practices.
What impact has your Lancaster experience had on your career?
The MSc HRM programme has helped to prepare me for an international career in HR which I am looking forward to pursuing.
Is there anything else about your LUMS experience that you'd like to share with us?
The woodland trail that encompasses the outer boundary of the University campus is a unique experience.